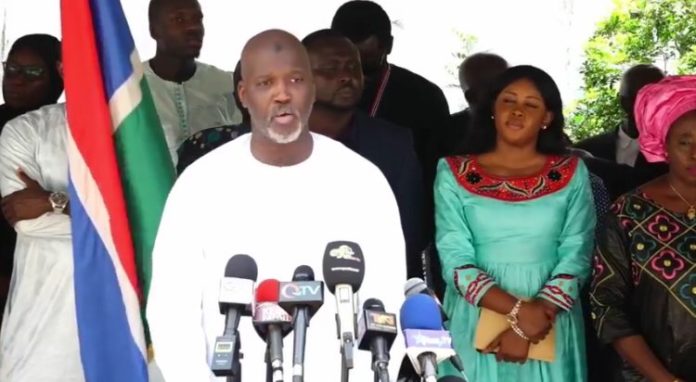 Former information minister Demba Ali Jawo has offered possible reasons behind Abubacarr Tambadou's resignation as attorney general and minister of justice.
"It is however obvious to anyone familiar with the terrain that his resignation is much more than what really meets the eye. When we refer to some of his own comments regarding why he took up the appointment of Attorney General, we would realise that something dramatic must have prompted him to resign at this very time he did," Mr Jawo said.
He added: "For instance, in an exclusive interview with Harona Drammeh of Paradise TV in August 2019, he said that when President Adama Barrow offered him the position, he had to consult his relatives and friends before accepting and they all advised him that "If your country needs you, it is better to disregard all other considerations and serve your country".
"He said he therefore had to give up a "1000 percent pay cut" when he decided to resign his position at the office of the UN Prosecutor for the International Criminal Tribunal for Rwanda to take up the appointment because he felt that his country needed him more and it was worth the sacrifice. "If your country needs you, then you should give up everything else to serve," he said, justifying his decision to take up the appointment.
"One would therefore wonder what has suddenly changed Baa's patriotic principled stance on preference to serve his country rather than work for any other organization. This country certainly needs him much more today than even at that time. Therefore, it looks like his departure is an apparent indication of frustration with how things are working in the Barrow administration, especially considering his patriotism and love for country.
"Therefore, there is a high possibility that it is such frustration that had prompted him to take such a decision, which seems to go against his own principles. Knowing Baa Tambadou, he definitely must have been prompted by something much more than financial considerations to resign his position in the government to take up an international appointment.
"Another possible reason for his frustration and eventual decision to resign could have been attributed to the vitriolic criticisms and personal insults he had often been subjected to by some elements within the society.
"While Baa is quite energetic and dedicated to his work, but he does not seem to have developed enough thick skin that go with a public office to withstand such personal criticisms.
"We have seen, for instance, how he poorly handled the diplomatic passport saga involving his mum and other members of his extended family. There is no doubt that all those issues and many others behind the scenes must have played a big part in Baa's decision to resign."