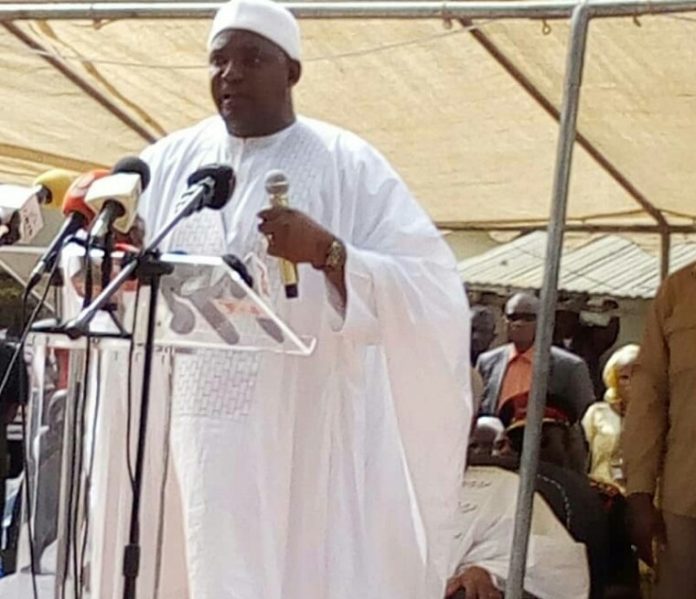 By Lamin Njie
President Adama Barrow has ordered for the continuation of prosecution against five paramilitary officers who are accused of fatally shooting three people in Faraba.
On June 18, 2018, personnel of the armed wing of the Gambia Police Force billeted on protesters in Faraba Banta in Kombo East resulting in the death of three people. Bakary Kujabi, Ismaila Bah and Amadou Jawo all died from gunshot wounds, a coroner's inquest said. Autopsy reports also said the victims were shot at close range and as a result the bullets penetrated and exited their bodies.
And President Barrow in a white paper on the report of the Faraba Commission of Inquiry dated November 28, 2018 said the PIU personnel who fired at the villagers did so "without lawful command and acted alone."
"The government accepts these findings in so far as they relate to the causes of death, injuries and destruction of properties in Faraba Banta on 18 June 2018," the president said in the white paper read by the Minister of Justice Abubacarr Tambadou on Wednesday.
"Accordingly, the government accepts the recommendations of yhe commission in this regard as contained in pages 47 to 52 of the report and has consequently taken measures including the following: that appropriate criminal prosecutions be continued against ASP Musa Fatty, PC Musa Badjie, PC Nuha Colley, First Class Momodou Z Jallow and Superintendent Babucarr Cham for the deaths of Bakary Kujabi, Ismaila Bah and Amadou Jawo all of whom died from gunshot wounds as established by the Coroner."
Other 'Perpetrators'
Meanwhile President Barrow has also ordered that criminal prosecutions be initiated against all perpetrators identified by the Faraba Banta probe for the 'willful destructionn of properties and other related crimes in Faraba Banta.'
"The Gambia Police Force has been directed to conduct criminal investigations into the killings, injuries and destruction of properties for the purpose of prosecuting the alleged perpetrators of the crimes within the shortest possible time," the president said.