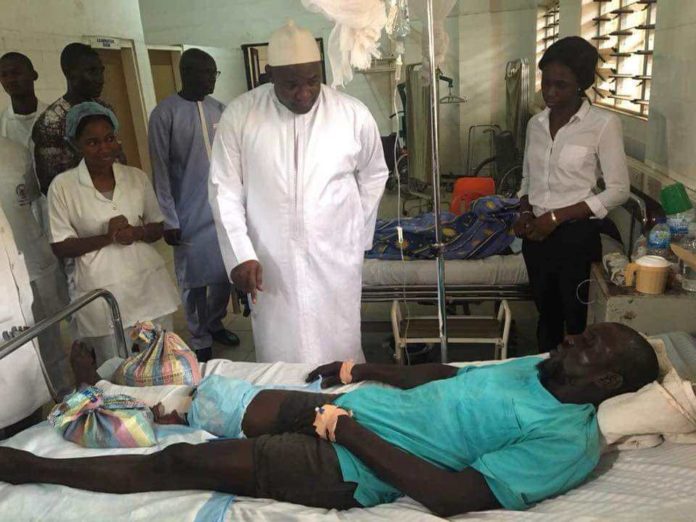 By Lamin Njie
President Adama Barrow has sacked the Alkalo of Faraba Banta as part of measures aimed at addressing 'the longstanding acrimonious' relationship between different parties in the village.
The President's action is contained in a government white paper that was shared with journalists on Wednesday. The report catalogs a string of action relative to Faraba village's June 18 tragedy. Men of the Police Intervention Unit clashed with protesters at a mining site in Faraba leading to the death of three protesters. The protesters were shot dead at close range, a coroner's inquest said.
President Adama Barrow wading into the hodgepodge days after the incident set up a commission in a bid to finding the truth. The probe has since submitted a report to the President.
"The government is particularly concerned about the commission's finding that the village of Faraba Banta is currently a divided community. Based on the finding and a totality of the commission's findings, it is established that all the concerned parties contributed to this unhealthy atmosphere in Faraba Banta village as they have each failed to conduct themselves in a responsible manner," the President said in the white paper read Wednesday to journalists by Minister of Justice Abubacarr Tambadou.
"Consequently, the government has taken the following measures to address the longstanding acrimonious relationship between the different parties and prevent a recurrence at Faraba Banta village: The Alkalo of Faraba Banta Village, Mr Noha Kujabi has been removed as the Alkalo of the village in accordance with Sections 144 and 145 of the Local Government Act, CAP.33:01, VOL.5, Laws of The Gambia. A new Alkalo of the village will be appointed soon in accordance with Section 59 of the 1997 Constitution and Section 142 of the Local Government Act."
Meanwhile President Adama Barrow has ordered for the dissolution of the village development committee of Faraba Banta. The President in the white paper also says the council of elders at Faraba Banta village "has been dissolved and a new council of elders will be established in Faraba Banta soon."