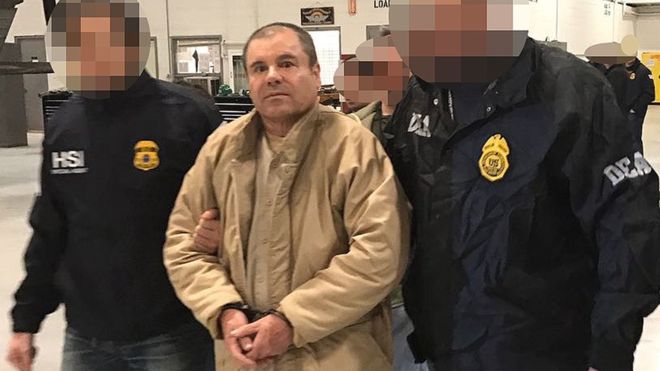 El Chapo has been sentenced to life imprisonment plus 30 years after a dramatic sentencing hearing in Brooklyn where he pleaded for mercy and complained about the conditions inside his New York City cell.
The 62-year-old broke his silence to make a statement, his first throughout his months-long legal saga.
Speaking through a translator, he complained that he was 'tortured 24 hours-a-day' in his solitary confinement cell at the Metropolitan Correctional Center in Manhattan, where he has been since January 2017.
He also complained that he was denied a fair trial, that the judge failed to investigate claims of prosecutorial misconduct and said the United States is 'no better than any corrupt country'.
Guzman, wearing a gray suit, purple tie and purple shirt, began by blowing a kiss to his wife, Emma Coronel Aispuro, and thanked her and his legal team for their support.
He had grown his moustache back for the hearing which was surrounded by armed guards and caused such a media scrum that journalists slept outside the courthouse to ensure they got a spot.
The only other relatives who attended the hearing were his cancer-stricken oldest daughter, Rosa Isela Guzmán, and his niece, Daniela. It is unclear which visas they were allowed into the country on.
His mother was denied a humanitarian visa to attend.
Among his complaints was that he has not been allowed contact with his wife – a strict condition that has been imposed since before the trial began and will remain in place.
Witnesses during the trial said she helped him escape Mexican prison in 2015 by acting as a liaison between him and his associates. She was also accused of smuggling a cell phone into court during the trial to communicate with him.
His 30-year-old wife, sporting a new hairstyle and at least $75,000 worth of jewelry, watched from the packed gallery. It was likely the last time they will ever see each other since she has been banned from visiting him.
The drug lord's statement did little to sway U.S. District Judge Brian Cogan who said the 'overwhelming evil' in the case was 'so severe' that he should be punished to the full extent of the law.
He was jailed for life on drug trafficking offenses and given an additional 30 for firearms offenses.  His attorneys have already vowed to appeal.
During the hearing, a woman who survived a hit that he ordered spoke to try to seal his fate.
She said: 'I am a miracle of God, because Mr. Guzman tried to kill me.
'I paid a high price — I lost my family, my friends, I became a shadow without a name.
'I had everything and I lost everything, even my identity.'
In his statement, read by a translator, he complained about the conditions in the Manhattan facilty where he awaited trial and about the rules imposed on him.
'I've been forced to drink unsanitary water. I've been denied access to fresh air and sunlight. The only sunlight I have in my cell comes through in the air vent.
'In order to sleep, I have to clog my ears with toilet paper because of the air from the air duct.
'My wife has not been allowed to this day to visit me, I have not been allowed to hug my daughters.
'I have been physically, psychologically, mentally tortured 24 hours a day,' he said.
He also complained that he was not given a fair trial and that he should never have been brought to the US.
'My case was stained and you denied me a fair trial when the whole world was watching.
'When I was extradited to the United States, I expected to have a fair trial, but what happened was exactly the opposite,' he said.
He did, however, reserve praise for the guards at the Metropolitan Correctional Facility who his lawyer said had treated him 'humanely'.
He also wanted to thank the US Marshals who brought him to the trial and guarded him throughout.
After the hearing, El Chapo's lawyers vowed to appeal the sentence.
'All we ask for is a fair trial, I'm not here to say that the gentleman was a saint, we just want a fair trial,' Jeffrey Lichtman, the head of his legal team, said.
Of the $12.6billion forfeiture, Lichtman said it was a sham.
'It's a fiction. It's part of the show trial that we're here for. They've been looking for his assets for how long, decades?'
He was asked about the supermax prison where he is likely to be sent, and said that while the world may not hear from El Chapo again, the 'stink' from the verdict persists. (DailyMail)