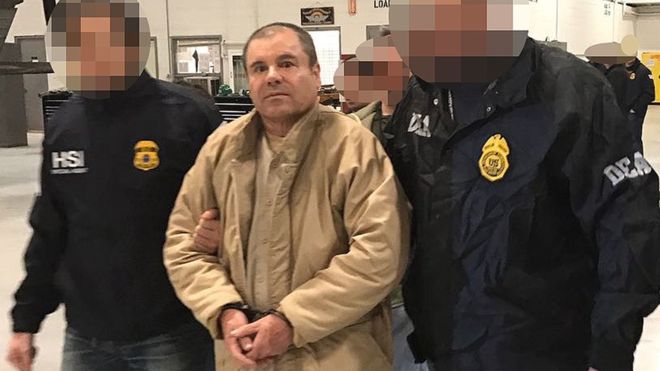 The trial of drug kingpin Joaquín "El Chapo" Guzmán is starting in New York under intense security.
Guzmán was arrested in January 2016 after escaping from prison through a tunnel five months earlier.
The Mexican is accused of being behind the all-powerful Sinaloa drug cartel, which prosecutors say was the biggest supplier of drugs to the States.
Key associates, including one of his former lieutenants, are expected to testify against him.
Who is El Chapo?
Joaquín "El Chapo" Guzmán – once one of the world's richest men – ran the Sinaloa drug cartel in northern Mexico. He was captured in January 2016, having escaped twice from jails in Mexico.
What is the Sinaloa Cartel?
It was the world's largest drug trafficking organisation.
The US Drug Enforcement Administration says the Sinaloa cartel is behind a huge trade in meth, cocaine and heroin in the US.
What's he Accused of?
He is accused of being behind the manufacture and distribution of cocaine and other drugs – as well as ordering the killing of rivals. (BBC)