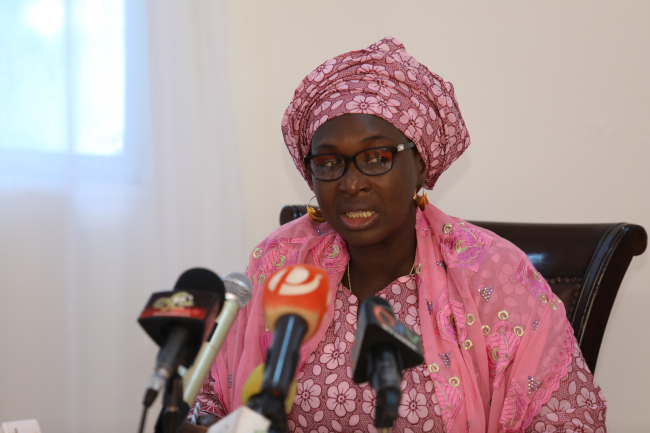 By Momodou Justice Darboe
The Director of Press at the Office of the President has said she is not aware of any anti-Barrow protest in the country.
Mrs Amie Bojang-Sissoho expressed her ignorance of the anti-Barrow protest in a press conference held at the Presidency in Banjul on Wednesday.
"The issue of what they call anti-Barrow….. Okay, I'm not sure about any anti-Barrow movement. So, if there is anything called anti-Barrow protest, I'm not aware of it," she evinced.
Mrs Bojang's comments come at a time when the country's media is awash with reports of a protest movement that is agitating for President Adama Barrow to step aside come December of this year.
A group called Operation 3Yrs Jotna has vowed to continue to pile pressure on Mr. Adama Barrow to honour his earlier promise of handing over power after overseeing a three-year transition programme. The movement is poised for mass rallies and protestations in the months towards the end of the year.
Many are finding it difficult to understand why the State House press boss could not be aware of a movement that the police say were inimical to the peace and security of the country, but many see it as part of the Barrow government's penchant for secrecy and reticence. A US-based Gambian political and social commentator, Pa Samba Jow, recently indicated to The Fatu Network that the most exasperating thing about this present dispensation is the secrecy that many issues of national significance are shrouded in.
Readers may recall that 15 Gambian nationals have been arrested and have now been charged with offences ranging from unlawful assembly to conduct conducive to the breach of peace. Their case is currently at the courts.