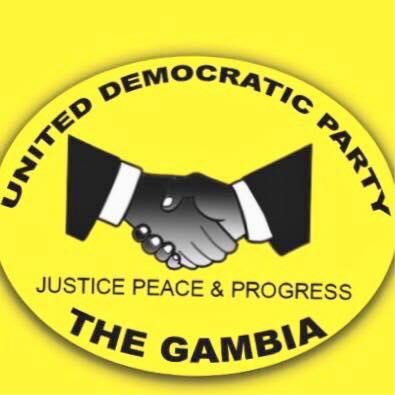 The student wing of the United Democratic Party (UDP) wishes to send a very strong message to Seedy SK Njie over the recent frivolous and cynical ill advise he gave on a recent copy of the standard news paper, recommending the resignation of Ousainou Darboe as party leader of the mighty United Democratic Party.
It is a political tradition in the United Democratic Party that party supporters do not respond to irrelevant statements from political players like Seedy Njie and his associates .
However, the student Wing of the United Democratic Party deemed it necessary to quickly make a rejoinder against Seedy Njie's recent statement towards Ousainou Numukunda Darboe.
We would instead put to the knowledge of Seedy Njie that those who are suppose to give advise to the UDP are special people with impeccable characters whose advise is always motivated with good conscience, wisdom and professionalism not stained and tainted characters like him who only survive on political expediency and booth licking.
The UDP students' Wing and the entire UDP fraternity recommends you to seek for National forgiveness instead of giving ill advises to a political party that is not even aware of your existence. We would like to remind you that quarrels end,but words once spoken never die.You are the exact Seedy Njie who nearly subject the Gambia to a human waste land, You are the exact Seedy Njie who persistently and perpetually instilled fear and helplessness into the minds and hearts of Sovereign Gambians whose only crime was to assert and affirm their sovereignty during the past presidential election.
You are the same Seedy Njie who stood before the National television (GRTS) and re-emphasized that Jammeh was not going to step down even he was defeated through a popular vote. You are the same Seedy Njie that allegedly aided the entrenchment of dictatorship,accompanied a dictator to a save heaven, came back and you now want to disturb the unity and Democracy of a party that is seeing you as a patriot in reverse order.
Bear in mind that one lie can annihilate a thousand truth. We would want tell you to develop yourself academically and politically, so as to improve your understanding of current matters and political happenings. Failure to do so,you shall always be rectified by people.
The United Democratic Party rejects in totality your advise against Ousainou Darboe, UDP's mantra in politics has always been peace, unity, development and Democracy. We want to remind the likes of Seedy Njie that the UDP is united in making sure we defend the interest of The Gambia and the party at large. In the light of this,we fear no one whose only function in National development is the continous changing of their shapes to appease a sitting government.
UDP is a sober party that believes in intra party democracy which we have demonstrated in our just concluded ward, constituency and regional congresses. The United Democratic Party is not an individual party.
UDP is a political party for everyone, with equal opportunity for everyone, and that arrangement shall remain forever. Ousainou Darboe has never imposed his will on people as far as UDP is concern. He is someone who is very consultative, Democratic and respectful.
On a final note,we thank everyone who has and continues to support the United Democratic Party.
Office of the Secretary General UDP Students' Wing