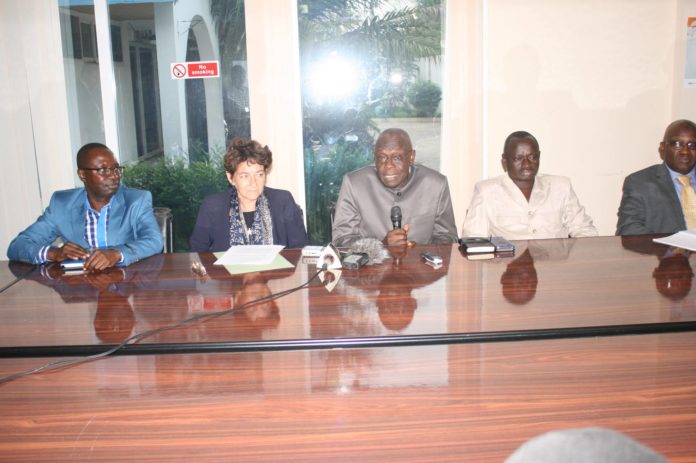 The government of the Gambia and its partners, World Bank and African Development Bank have developed a roadmap to address the electricity challenges facing the energy sector in the country. This was disclosed Tuesday during a press conference jointly held in Banjul by the Ministries of Energy; Finance and Economic Affairs; World Bank and African Development Bank.
The developed roadmap as explained by the two Ministers – Amadou Sanneh – Finance and Fafa Sanyang – Energy respectively and as well assured by the partners Louise T Cord, Regional Director – WB and Bash Baldeh – AFDB, will help to bring a lasting solution to the ongoing energy crisis which is a center of discussion across the country.
Taking serious the challenge the country is currently facing on the situation of the electricity outages, the joint team from the World Bank and AFDB, according to the Minister of Finance and Economic Affairs, already briefed the government of The Gambia on the roadmap for the energy sector and plans for investment.
Both ministers admitted the inheritance of the situation from the past administration and want the citizens to know that the present government is taking the issue along with other challenges seriously as "government is working with its partners to deal with the energy situation as a whole not just the Greater Banjul Area."
It was further disclosed at the press conference that the 24-hour electricity supply currently being enjoyed in areas like Farafenni will soon be extended to the Niumis too.
However, Minister Sanneh noted that the current situation is a developmental challenge for the entire country. Fafa Sanyang, Minister of Energy said the roadmap is meant to save the existing energy issue of over fifty years as they are in conjunction with their partners to have a lasting solution to the problem.
He explained that the developed roadmap covers three phases and the phase one is the emergency one which they are working (on) towards the end of December to stabilize the situation while the they have the Mid and Long Terms issues to address. But right now, he said, NAWEC is working on the short term by rehabilitating the existing engines which are all old.
Both the World Bank and the AFDB representatives assured of their support to the government of the Gambia in finding a lasting solution to the energy situation confronting the county while the Managing Director of the NAWEC apologized to all citizens for NAWEC's current supply of inadequate service.