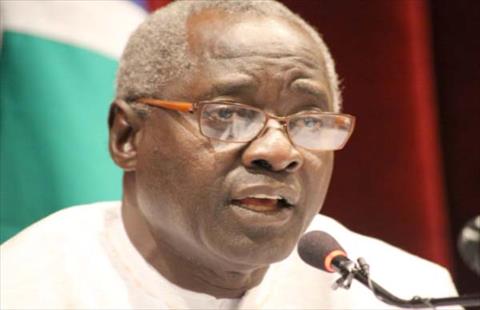 The National Assembly Member for Serrekunda, Honourable Halifa Sallah has called on Gambians to learn from the realities of the past to avoid any recurrence.
Hon. Sallah was one of the Guest Speakers at the National Stakeholders Consultation Meeting organised by the Victims' Center with the support of The UK based Media Legal Defence Initiative (MLDI) and the US based National Endowment for Democracy (NED).
The Serrekunda NAM said Gambians have a duty to gather the lessons of the past to inform the government about what happened, not only to remember but prevent it from happening again.
"I remember the day Deyda Hydara lay dead in a pool of blood," Halifa Sallah said.
He went further to recalled the trial of six Gambian journalist, Emil Touray, Pape Saine and Sam Sarr among others who were sentenced to Prison for saying the killers of Deyda Hydara should be brought to book.
"My heart sank when I visited them at the prisons saying to myself the people who called for justice are sent to prison while the perpetrators are walking free in the streets," Hon. Sallah said.
"We have a duty to perform and if we fail history will indict us," he added.
Madi Jobarteh of TANGO said Civil Society should be very vigilant in promoting freedom of speech which is the foundation of modern democracy. He also elaborated on the rights to freedom of expression and holding the government accountable.
"Without freedom of speech the citizens will be plunge into slavery," Madi said.
The rights activist called on the Gambia Government to constitute the Freedom of Information Law which is also known as 'sunshine laws' that empower citizens to hold the government to account. He called on the Gambia civil society to re-examine and position itself to the right track.
Emil Touray, President of the Gambia Press Union (GPU) expressed happiness that the government has finally decided to honour the ECOWAS Court decision to compensate the families of Deyda Hydara, Chief Ebrima Manneh and Musa Saidykhan.
"Its a step in the right direction," Emil Touray explained.
Touray went further to called on the government to repeal all the bad media laws in line with the African Charter.
Meanwhile, the family of Chief Ebrima Manneh acknowledged receiving half of the compensation which amounts to $50, 000 Dollars. The ECOWAS Court has ordered the compensation of $100, 000 Dollars to the families of Deyda Hydara, Chief Ebrima Manneh and Musa Saidykhan.