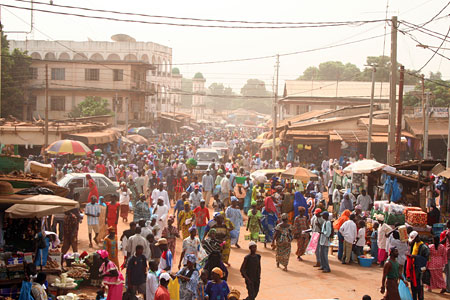 In the section, 'Letters to the Editor', of the Standard Newspaper in Banjul published Monday, i read with a measure of anxiety comments by one, Aisha Tambia, left frustrated at certain behaviours, attitude and mindset still prevalent in Gambian society. In the letter, she observed that 
'only in the Gambia will you find a 30-year-old man living with his parents, jobless, fed by the parents, while bragging about new Gambia. I still see the same old Gambia, says Aisha, with those calling for change so doing as an excuse to blame someone else for their own laziness'. 
The Gambia, she continues, is now fifty-three, not a young nation by any stretch of imagination, yet still lagging far behind other nations in all facets of development indicators. She then went on to say that 'what we are having in the Gambia today is not change'; a change of guards then, perhaps, if one may just interject, paraphrasing her words.
The passage in her letter that had me warmed up to this piece was this: '
I don't think the Gambia needs any more change, she says, it is the people who need to change themselves, and the way they think'. That is the bottom line, she maintained. What a profound statement that was, very real, and true. 
In my own view, the culture of complaint "Legaii amuut chii dekkabii", "Dekka bii deffa naharii", has held us back individually and as a collective. Yes, there is poverty and pain and 
i hear you fella, but what are you doing about it, and to improve your own self? Gambian youth should bear in mind that t
he days of sitting around idle drinking "attaya" for hours on end are long gone, whilst the world moves on fast all around you. From the energized slums of Lagos, the tech hubs springing all over East Africa, to rapid transformation and buzz the Senegalese capital, Dakar, is experimenting with – there is no time to waste folks.
'Attitudinal' change appears to be the buzz word here –  as the missing ingredient in harnessing and realising 'Gambia's' full potential. That, i'm afraid, applies all the way from the apex of political power raining down the chain. The 'virus' is domesticated, reinforced by a certain disaporean quote unquote 'semester syndrome' inflicting damage on young impressionable minds. We observed from the quiet frontiers of Farafenni, Birkama-ba, Sukuta, Latri-Kunda and its peripheral surroundings, young people singing
 songs about Jobs, baby jobs as the anthem and dilemma facing Gambian youth. What is government doing about this? And who is accounting for the D600, 000, 000 EU funded Jobs + Training pot of cash in use? How many direct jobs has that created thus far? We shall check with EU Banjul Office and the Commission in Brussels!!! 
Anything for the youth without the youth is not [fit] for the youth – political science professor, Sait Matty Jaw, once put it defiantly. I recognised the fact that
 jobs and training opportunities do not come knocking on doors; that the youths 'gotta' 'man-up' go out there seek for it, if one truly desires for one. You may unstruck at first try, try harder and a third; but then create one for yourself that sustains for the long haul. Fellow Gambians,
 what is wrong with being a fisherman? And to join up with like-minded contemporaries establish a fishing vessel, seek government help to grow such business better and bigger and for profits? 
And what could be so wrong being a farmer? To move out of your comfort zone into the countryside engage in commercial ventures with like-minded #YoungFarmers? Folks, reach out to the line-ministry, NGO's and development partners to fund initial 'Young Ventures'. The world is in the grips of a population boom and it requires farming to feed all those mouths. Take it from me – today, and for decades into the future, agricultural investment is the smartest way to prosperity and riches for individual farmers and nation-states alike.
The same could be said of various Carpentry factories, Welding workshops, empowering 'Youth Owned Businesses' and such trades across the development spectrum. Gambian youth need jobs, they type that cannot be outsourced. It requires the revival of infant industries, manufacturing and processing factories to accommodate disillusioned talent seeking the shores of Libya for Italy. Youths 
need to network and collaborate on ideas to form startup companies. 'Collaboration' is key combining talent and ideas to reach impactful decisions quickest. 
I am not too sure if the 'Gambia situation' need any more philosophical diagnosis. Certainly, Banjul is in desperate need of visionary administrators walking with an 'ethical spinal cord', 'standards, 'norms' and 'procedures'. I recognise the fact that government is not there to solve all of our problems, however it is instituted to lead the way, with responsibility to occasion the necessary conditions for the citizenry to succeed. The fact remain men, yes Gambian men, have to get off the "attayaa" chair and 'ghettos' and want a job, even DEMAND better conditions from their government by all means necessary. 
Gibril Saine   Twitter: @gibbysaine