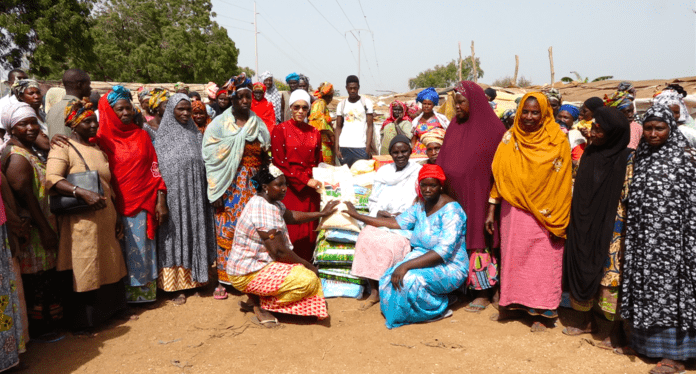 By Momodou Justice Darboe and Jaka Ceesay Jaiteh
The First Lady, Fatou Bah-Barrow, on Thursday made a surprise visit to Gambian women who scavenge for groundnut at the Denton Bridge. The surprise visit saw the First Lady put smiles on the faces of the women by giving them bags of rice, sugar, gallons and cartons of dates.
The largesse was part of Fatou Bah-Barrow foundation's desire in helping improve the quality of life for women and children.
In a brief statement to hand over the donated items to the beneficiaries, Mrs. Betty Saine of the first lady foundation, underlined that the gift was in line with the foundation's core values of empowering women and children.
"We are here today to not only extend support but to also appreciate your efforts. The First Lady always passes by [Denton Bridge] and knows that you are hard-working women. Women are instrumental in homes, communities and the country at large and this is all the more reason the First Lady always have their interest at heart," she stated.
Meanwhile, some of the beneficiaries that spoke on the first lady's surprise visit and subsequent donation said they were well aware and convinced that the President and his family have the interest of Gambian women at heart.
One of beneficiaries said:" We thank you for coming over. We know you have our interest at heart and we are very grateful for the support. We are less fortunate and spend the whole dry season here to make ends meet.
"The items will be very beneficial and we say Thank You and please extend our messages of goodwill to your husband and family. Tell that we'll be always behind him."