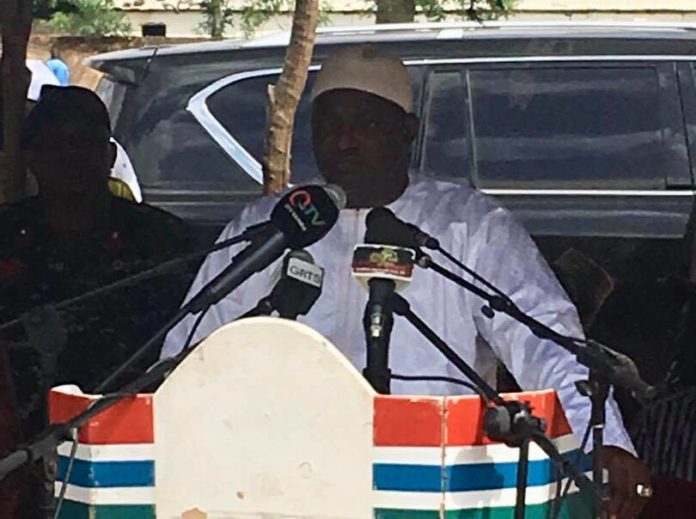 The people of Kantora have lamented drug shortage at the Fatoto Health Centre. The drugs shortage, according to residents force patients to resort to pharmacies where they pay high cost for drugs.
Speaking at a meeting in Fatoto as part of President Barrow's tour, locals also complained the lack of water, electricity and good roads in Kantora.
Having accessible health facilities is one thing, but getting quality health service delivery remain a concern for Gambians. Lack of drugs in the health facilities in addition to high drugs cost in pharmacies is not new to Gambians.
But the people who suffer most are the less privileged and poor rural dwellers.
Hawli Baldeh, women representative decry the poor road network between Basse and Koina. The women of Kantora, she said also need a garden and farming equipment.
She appealed for a Borehole to ease the burden on the women. Fatoto Alkalo Abdourahman Baldeh expressed concern the lack of fence for the health centre and the lack of drugs.
Here, the locals also used the meeting to bring to Barrow's attention other pressing issues.
Hon Bilay Tunkara, National Assembly of Kantora, called for the timely supply of fertilizer, not only to Basse but across the whole of URR.
Hon. Tunkara wants the revival of the mix farming Centre in Kantora.
Sainey Sanyang, youth representative appealed for a Skills Centre for the youth of the area. Staff quarters for teachers in the area, he also informed Barrow, is a necessity to better motivate the teachers.
Electricity, he said, is something the people of Kantora want to see in the area.
The roads problem in the area, he told Barrow is not only limited to Basse-Koina but also other feeder roads leading to the border.
Dr Isatou Touray, Minister of Health and Social Welfare said health is key in everything, adding that the concerns raise are well noted. The women, she said, are the most effect by the health challenges. She assured that the health concern raised relating to the Fatoto Health Centre are the true state of the health facility.
"The water and drugs shortage at the health facility will be solved as soon as possible," Minister Touray told the people of Fatoto.
The Fatoto Health Centre receive patience from all the villages within Kantora district.
"We will work on upgrading the Fatoto Health Centre. There will be a holistic approach in upgrading the health facility," she told the meeting.
Speaking at the meeting, Barrow said the construction of the road is a forgone conclusion as the project will kick off soon.
He added that he is concern by the plight of the people of area, who he said, were abandoned by the previous two governments.
The Basse-Fatoto Road, he recalled has been the same since the 1970s when he used to visit Fatoto to play football as a School going boy in Basse.
He assured that the road problem will be history soon.