Credible sources say Dr.Ismaila Ceesay's detention at the Criminal Intelligence Unit has to do with an article on a local newspaper in Gambia where he allegedly made comments regarding the security of the country.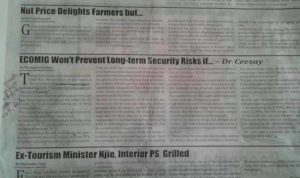 Dr. Ceesay is said to have said that there is a mistrust between the Gambian military and their Commander in Chief and that the commander in chief gives more attention to the ECOMIG forces.
The police are saying that such a comment is a threat and should not be mentioned, thus the reason for his arrest.
One ASP Gaye called him for questioning and ASP Darboe from State Intelligence Unit at the State House alongside some officers from Interpol are conducting the interrogation.
The source said there is an order for him to spend the night at the Police headquarters for further investigations.
Dr. Ismaila Ceesay is a Political Science lecturer at the University of The Gambia.