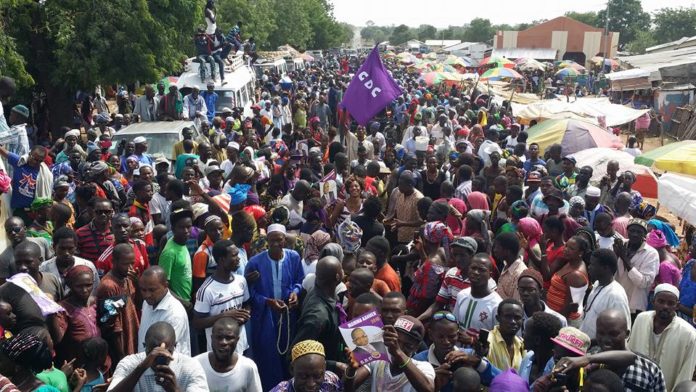 MC Cham, Youth Mobilizer for the Gambia Democratic Congress (GDC), has said that the newly elected councilor for Julangel Ward in the Jimara Constituency (URR) and three others have been arrested by police Saturday evening.
Cham broke the news on his Facebook page a few hours ago.
Below we produce the full statement posted on his Facebook:
The newly elected GDC councillor for Julangel Ward in the Jimara Constituency in URR and three (3) others have been arrested by the police in Basse few minutes ago.
Ebrima Manneh, GDC Councillor for Julangel Ward; the Ward Chairman of Julangel and two other male supporters of GDC, are all detained at the Basse Police Station for reasons yet unknown.
GDC NAM Alhagie Sowe is also being questioned at the Basse Police Staion at this present moment, whilst the others have already being detained.

Our sources on the ground said the police told them that they got orders from Banjul that they should arrest and question the said GDC councillor and his supporters.

We would also like to inform the general public that our newly elected councillor is the winner of the Ward (Julangel) of President Adama Barrow's village Mankamang Kunda in Jimara Constituency.

We strongly condemn their arrest and call on the government to release them immediately without delay.

We will keep you posted as we receive more information on their arrest.
MC Cham Jnr
GDC National Youth Mobiliser
14th, April 2018