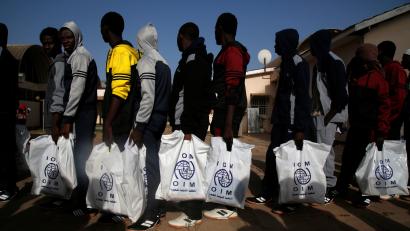 An association of Gambians in the northern Italian city of Milan has said that 30 Gambians lost their lives in Italy in 2018.
The association's secretary Sitta Darboe disclosed this during a meeting with the National Assembly Member for Banjul North, Ousman Sillah.
Mr Sillah who is on a seven-nation tour of Europe on Saturday November 3 met about 30 Gambians and their Italian friends at Cascina Casottello, Via Fabio Massimo 19, in Milan, to discuss pertinent issues among them their welfare.
In his introduction of Mr. Sillah, Mr. Sheikh Njie, the Chair of the event, explained the Banjul North NAM's political background, the work he is doing and the responsibilities he assumes at the level of the National Assembly.
Welcoming remarks were also delivered by the President and Secretary of the Association of Gambians in Milano, Messrs. Kebba Dem and Sita Darboe, who both spoke at length about the history, work, issues and challenges of their organisation.
Mr. Dem called on Gambians in Italy to come and join their association.
As for Mr. Darboe, he disclosed that just for this year (2018) 30 young Gambians lost their lives in Italy and that 28 of the corpses have been returned while the other are yet to be flown back to the Gambia.
One of the two dead bodies that are still in Italy is a murder case of stabbing if a Gambian by another Gambian youth which is now before the court.
Mr. Darboe also highlighted the challenges that Gambians face and the efforts being made by their association in addressing them. He called for support from the Gambian government to open other consulates in Italy.
Addressing the gathering, Mr Sillah thanked all those present for responding to the invitation as well as Mr. Njie for facilitating the meeting.
The Banjul North explained the four key statutory roles of a National Assembly Member; making laws, providing oversight, representing the electorate and advocating for issues that concern the people.
He explained that his mission in Europe is in line with discharging his representative and advocacy roles by meeting with Gambians in other to understand their issues for better representation and articulation of their concerns.
Mr. Sillah told the gathering about the non-statutory initiatives he has undertaken at the  level of his constituency such as the scholarship fund for students in secondary school which he is supporting from his salary and also the technical and vocational education training for the out-school, unemployed, potential and returning migrants i.e. Crab Island Initiative.
He noted that political representation is all about being relevant to lives of people by knowing and addressing their problems. This, he added requires sacrifice, honesty, humility, knowledge and commitment. He further stressed that political representation is not a means for personal enrichment, privilege and power but selfless service.
The Banjul North lawmaker told them that he is there to listen to them so that he will go back to share their issues with the National Assembly, the Executive and the Gambian population in general for awareness raising and interventions.
Mr. Sillah was nearly emotional when he was recounting his experience regarding the pathetic and heart rending conditions in which he  found the young Gambian undocumented migrants at the central train station in Milan.
The Banjul North NAM said the migration phenomenon is a matter of common concern and as such would require collaboration and solidarity between the countries of origin and host countries, involving governments, populations, civil society as well as International organisations.
He said migration is an age old phenomenon which has been existing since time immemorial, citing the case of Argentina, among others, where nearly half of the population is of Italian descent thanks to migration.
He stressed that European host countries and Italy have moral and legal obligations to accomidate and support the migrants. He said returning them through forced repatriation would not solve but aggravate the problem for all. He said the governments need to sit down and agree on establishing programmes in Europe that would help train these migrants to acquire skills and to be further assisted them to establish themselves in thriving enterprises.
Mr. Sillah noted that African governments also have a responsibility and duty to ensure that their countries resources are managed and invested in such a way that there will be incentives and opportunities for young people to stay at home. He added that this is the only effective and durable way that we can stem irregular migration.
The Banjul North representative urged the Gambian community in Italy to unite, irrespective of partisan, sectional or ethno-linguistic considerations, to be able to address both their collective and individual needs. He advised them to be supportive to one another, adding that individualism shall and will never pays.
Mr. Sillah said he is there to listen to them.
In the ensuing interventions, the participants made comments and asked wide ranging questions on issues that relate to them in Italy and the diaspora, in general, and also the Gambia in terms of the political, economic and social conditions.
The issues of enfranchising the diaspora to vote, Coalition MoU and the 3 years, commissions, the vehicles to parliamentarians, economic conditions, among many others, were raised and responded to by the visiting parliamentarian
In further responding to their questions, Mr. Sillah made it very clear that his mission to Europe is not at the behest of the Government of The Gambia and that he is not receiving any per diem for it.
It concluded with the participants and association expressing their profound gratitude to the Banjul North for the visit and the interest he has shown towards their welfare. They wish him a successful tour of Europe and a safe return home.