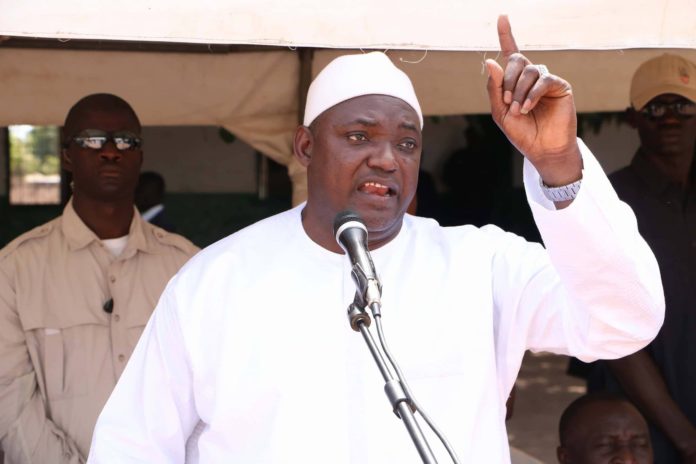 By Dr. Ousman Gajigo
So Adama Barrow is proudly touting the pledges donours made as if those resources already been disbursed by the donours. I hope Barrow's group advisors would for once give him some sound advice: those are just merely pledges. Whether the money gets disbursed or now would depend on some conditions being met. While those conditions would often be unstated, it does not mean that they do not exist.
According to Barrow: "My government has been able to receive a pledge of $1.7 billion and there are 42 different projects in that money, and all that will happen between 2018 and 2021. That's why I said I will do better than any other past president and I am not just talking for you to clap." Why isn't Barrow focusing on anticipated accomplishments that can be financed by the significant amount of resources already raised domestically or those that have already been released by donours? After all, these are not small amounts of money. They actual constitute a significant proportion of the resources that are supposed to finance the NDP. The projects under the NDP are not supposed to be financed exclusively from resources pledged by donours.
The development challenges of the country cannot depend on the pledges materializing. To think that, as Barrow and his advisors seem to do, is to misunderstand both the development challenges faced by the country and to have simplistic notions about how the international donour community operates. The current government must demonstrate that it is worthy of that assistance. So far, it has failed woefully as it has not demonstrated effectiveness with the resources at hand. The roots of that failure lie in Barrow own monumental failure in assembling a competent team to advise him.
The topmost level decision-making body is the cabinet. Let's take a look at the key ministries. Barrow choice of Minister of Finance is the most egregious example of his litany of bad decisions. This is arguably the most important ministry. While there is nothing wrong with recycling ministers from a failed regime, you would think that the President would be careful to pick a minister with an actual accomplishment to his name. Instead, Barrow picks a minister who is complicit in most of Jammeh's actions given his high position in that regime, and continues to be entangled in questionable activities, with frequent appearances in front of the Janneh Commission to remind us. How will a ministry headed by Mambury Njie be able to make correct prioritization in budget expenditures, fiscal management and effectively implementation of the NDP?
Agriculture remains one of our most important ministries. While a change has recently being made in naming Dibba to replace OJ, the results remain the same at the ministry. This is because Dibba is just as unsuitable for the position as his predecessor. Both of these individuals seem to believe that the primary and the sole role of the Ministry of Agriculture is to buy fertilizers for farmers at the beginning of the rainy season and purchase groundnuts from them at harvest. With such diligent continuation of the bankrupt agricultural policy and practice from the previous two regimes, how will the country ever make any progress in this sector?
The third leg of our three-legged economy is the Ministry of Tourism. This important ministry continues to be led by none other than a veritable clown. Barrow seems to be operating under the confused assumption that just because someone owns a hotel, they are automatically qualified to oversee the Ministry of Tourism. Little wonder there has been no material improvement in this sector. If Hamat Bah is to be believed, the biggest challenge facing his ministry is the composition played by local radio stations.
So, with the status of the three most important ministries (Finance, Agriculture and Tourism), how is Barrow able to operate under the delusion that change is happening or is around the corner – big enough to propel him to a second term? What accomplishments can he actually point at to give confidence to donours that their resources would be well spent?
Given the incompetence of Barrow's advisers, let me do some public service and offer some free advice. We should note that, for instance, at the 2000 Millennium Summit, pledges were made to fund the MDGs but when the 2015 dateline arrived, many developed countries fell short of the pledges they made. And in 2005 at Gleneagles, donours pledged about $30 billion dollars to be disbursed by 2010 but fell short by $19 billion by that date. Interestingly, most of the countries that failed to make good on their pledges form the bulk of those who pledged to The Gambia. If major industrialized countries failed to honour their pledges to The Gambia, it will be neither be the first, nor the last time this has happened. This is after all the basis of endless rounds of donour conferences.
Going back to my earlier point, is there any evidence that Barrow has been able to implement some signature development projects that could signal his effectiveness and encourage donours to start disbursement soon? As of writing this article, President Barrow has absolutely no achievement to his name. Virtually all the infrastructural development projects being done or completed right now were initiated under President Jammeh. These include the Transgambia Bridge, the International Conference Center, the planned Coastal road expansion, the Sukuta-Jambanjelly Road, among others. In the meantime, the electricity and water situation have not gotten any better in the urban areas. The economy only grew this year mainly because rainfall level this past rainy season didn't fall below average as many feared.
Even the recent release of previously blocked budget support cannot be attributed to Barrow. That release, particularly from the EU, is the result of country's democratic transition, of which Barrow's presidency is a product, nor a cause. In other words, our new-found democracy begot Barrow and the freedom we now enjoy, not vice-versa.
I heartily agree with Barrow that his chances of winning re-election hinges on concrete achievements. Unfortunately for him, concrete achievements have been non-existent. If achievements are what should determine election outcomes, the election outcome should not bring any surprises. So, he better start working on convincing the UDP to nominate him as an alternate route to the presidency.