By: Fatou Kebbeh
25-year-old Aminata Alice Yajoh, a young Gambian entrepreneur who is both a visual and performing artist, has narrated her inspirational story to The Fatu Network and the challenges she encountered.
The young female entrepreneur, who is also a graduate of the Gambia College, School of Public and Environmental Health, said her love for art is what motivated her in choosing it as a career.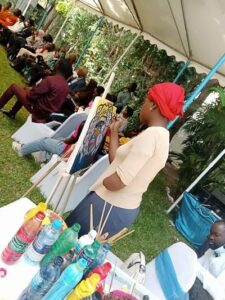 Entrepreneurship in the Gambia is being promoted to another level by young Gambian entrepreneurs. For young people like Aminata, venturing into the male-dominated industry, can make a difference and motivate others.
"Growing up I had poor communication skills and low self-esteem which is why art came into the picture and it helped me a lot because I use it as a means of communication and music too," she narrated.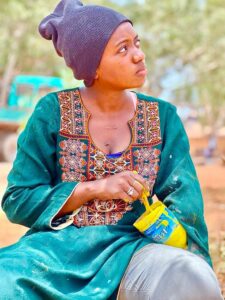 However, despite their efforts in shaping the future through entrepreneurship, most of them if not all continue to face numerous challenges in accessing funds and facilities.
Asked about what inspired her to venture into virtual art, young Aminata said besides her parents, she is her own inspiration.
Like other parts of the world, women entrepreneurs often face challenges accessing funding, recognition, respect as business owners, and building a support system.
To overcome these challenges, women entrepreneurs often create their support, such as overcoming their insecurities, and reach out to other women entrepreneurs.
Aminata has proven time and again that she can make a difference as she is now becoming an outstanding female entrepreneur in the art industry.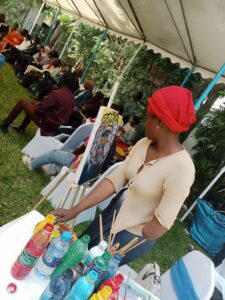 "The art industry in The Gambia is not promising because Gambians in general do not have that value for art.
So, for them, art is cheap and easy, they think you just come and play with colours and then go. They don't value the time and effort of the artist," she asserted.
She added that the reason many artists are struggling when it comes to the art industry is because of the low-value people attached to it.
This, she noted, has made it even harder to see art shops in the country that can provide people with all the materials needed for art.
According to her, this has forced some artists to spend a lot in ordering art materials from outside the country. This, she mentioned, is stressful because they spend much and earn less due to high expenditures.
Narrating the continuous challenges in the male-dominated field, the entrepreneur noted that being a female artist is not easy.
According to her, the perception that there is no money in art has discouraged many people especially females not to venture into the field.
"Art is very important to me because when I'm down, I communicate through art.
"That is why art is not something I do during leisure, it is a passion-driven career that I want to take to another level," she told The Fatu Network.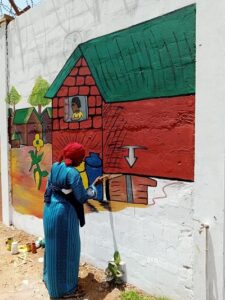 Despite being an amazing visual artist, she is also a performing artist, a model, a practising public health officer, an actress, and also does pageantry.
Many people know Aminata to be a multitalented individual who has gained recognition through her painting skills and some other entertainments she is engaged in.
She further said the Ministry of Arts and Culture has to do more work in making the industry comfortable by creating budgets and many other initiatives that will help burst the art industry.
She claimed that many will rather spend on artists who are not Gambians than believe in the capabilities of the Gambian art industry.
"The ministry is undervalued and underrated because the government is not paying focus on it.
Art attracts tourism and it should be respected and pushed to another level," Aminata said.
She added that platforms should be created for artists to showcase their talent and express themselves in ways that could help them move the art industry forward.