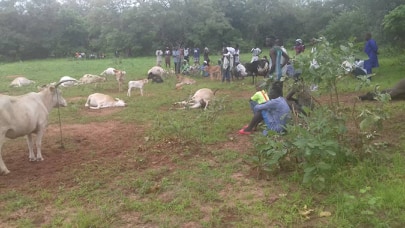 By Lamin Njie
A cattle owner in Upper River Region Naya Baldeh is seeking justice after 15 of his cows died at his ranch in Madina Giki.
Herdsmen went to Naya's ranch on Thursday only to find 15 cattle including five heavily pregnant ones dead, Alagie Mansa who is familiar with the incident told The Fatu Network on Friday.
"The incident happened on Thursday in Madina Giki near Bansang. We have reported the matter to the police in Bansang who came to the ranch. As part of the investigation, doctors came to see the cows but they said the cows were never sick. They appeared to have been struck with metal objects," the 78-year-old who lives in Sinchu Chedoyel added. Sinchu Chedoyel is about ten kilometers from Madina Giki.
According to Mansa, four of their cows each worth D40,000 were recently stolen but later recovered at Abuko.
"We don't know who is doing this but we need justice," Mansa said. "Just recently, four of our bulls were stolen which we later came to recover at Abuko."