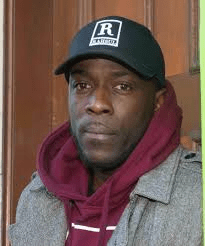 A man who body-slammed a scissors killer to the ground and restrained him until cops arrived said last night: "I'm no hero".
Raynold Richards, 32, risked his life to overpower George McAdam, 40, after tailing the maniac following his frenzied stab attack on stranger Paul Smith, 28.
Deranged McAdam — freed from jail two weeks earlier — inflicted 32 wounds on the uni worker in front of terrified tourists near Edinburgh Castle.
He then washed his bloodied hands in a puddle and fled into a nearby NCP car park.
Recalling the moment he rushed to help after hearing screams, civil engineer Raynold, originally from Gambia, said: "I just had to do my good deed for that day.
"We could see the guy on top of the victim constantly stabbing him. Tourists were running away as if it was a terrorist attack.
"The victim wasn't looking good. He was bleeding profusely.
"I told my colleague to help him and I followed the guy after he started walking away.
"He turned around with the scissors and threatened me. He said, 'Do you want it?'. There was blood dripping from the scissors. It was horrible. I stood back for a minute and thought, "f*** it". I followed him.
"He made his way up the stairs into the car park. I sized him up and I knew I could take him on.
"I bear-hugged him from the back so he wouldn't be able to use his hands and stab me.
"I lifted him all the way up and slammed him to the ground."
We told how Edinburgh Uni IT analyst Paul, of nearby Balerno, was on the phone to his mum Margaret after a lunchtime visit to KFC when McAdam pounced.
He screamed, "Help me…need police" as McAdam inflicted an onslaught of blows to his neck, piercing his jugular vein.
Dad-of-two Raynold added: "He'd stabbed someone and I wanted to make sure he didn't get away with it. I had to risk my life. I followed him from the scene and when the moment was right, I took him down.
"I'm glad I helped arrest the guy, but it won't bring the victim back. I'm deeply sorry about the family's loss. People are calling me a hero but I don't want to be beating my own drum."
McAdam was acquitted of murder after prosecutors accepted his not guilty plea on the basis he "lacked criminal responsibility" due to suffering from schizophrenia during the May 30 horror.
He is detained at the State Hospital at Carstairs ahead of another hearing in February. (The  Scottish Sun)