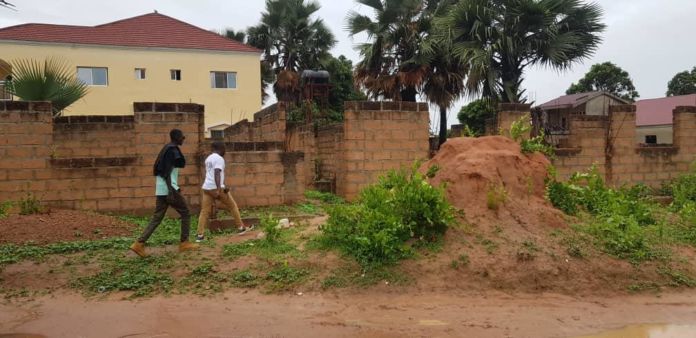 The Sandeng Fundraising Team today expressed gratitude to Gambians over their contribution towards late political activist Ebrima Solo Sandeng's house project.
Mr Sandeng died in 2016 after he was arrested by police for organising a protest, leaving behind him a house he had started constructing. A group of Gambians came together in June this year and initiated a campaign to mobilise funds to complete construction of the house of a man whose fight against the Jammeh dictatorship continues to retain huge importance.
The Sandeng Fundraising Team today revealed it has raised over D800,000, monies that have largely come through donations from Gambians.
The team in statement signed by Momodou B. Krubally and Tukulorr Sey said: "We would like to thank all who dug deep into their pockets to donate towards the fundraising event to complete Solo Sandeng's house. With every movement, it is the will of the people that makes it successful. During this fundraising marathon, we have seen people donate multiple times, and also seen people encourage their family and friends to contribute toward this noble cause. We would also like thank media outlets namely: The Fatu Network, Kerr Fatou, What's on Gambia and Mengbe Kering TV for helping host members of our team during fundraising events. Special thanks also goes to all who shared the gofundme links on their social media platforms and fundraising flyers.
"The amount of funds raised (after foreign exchange and transfer fees) = D884,996. These funds are in a special account in The Gambia, with two signatories who were vetted and approved by the fundraising team and the Sandeng family. The funds are monitored by the team, and each transaction will be approved accordingly. The building team is not by any means in control of disbursement of funds. To ensure transparency and accountability, the two signatories will maintain the account independent from the construction team. Our goal is to publish the final expenditure report with donors or share it with the Sandeng family. The Sandeng family will be involved in all aspects of the construction project.
"During the past few months, we have been able to assemble a team of dedicated and experienced Gambians with outstanding knowledge and experience in building houses and resource development – both very important in this particular project. The construction team, headed by Mr. Mustapha Njie, will give detailed reports of all project activities because we are quite aware that those who donated funds would like to see accountability and transparency. The construction team has made it quite clear that they are volunteering their resources, and not looking to make any profits in this project. Instead, they have made a commitment to be big time donors because Solo Sandeng's family deserves a comfortable and decent home that is much better than anywhere they've ever lived.
"Mr. Njie has made a pledge that what his team donates in terms of materials and resources, will yield satisfactory results towards this project. Mr. Njie has secured a lot of anonymous pledges from people in The Gambia, and we would like to thank them for their generous contributions! The construction team is confident that if all goes without glitches, the Sandeng house will be ready for occupancy before the family's current lease runs out in April, 2020.
"The team has also designated Mr. Muhammad M. Jagana as the project coordinator, and resource developer. All receipts and disbursements will be shared with the team consisting of the following individuals; Anna Jallow-Jaiteh, Awa (Tukulorr) Sey, Dr. Malanding Jaiteh, Fatoumatta Sandeng, Musa Bala Darboe, Momodou Krubally, Muhammed Sandeng [and] TAF Africa Foundation.
"MAAB a company that works in construction, has been identified as the Project Sandeng Home contractor.
"Mr. Sandeng made the ultimate sacrifice when he went out to protest for electoral reform and lost his life, but the generosity of Gambians at home and abroad has demonstrated to Solo's family that they will never be left behind. Once again, we thank all of your for helping Solo Sandeng complete his dream house.
"If you have questions, please contact one of us and we will get back to you as soon as possible."