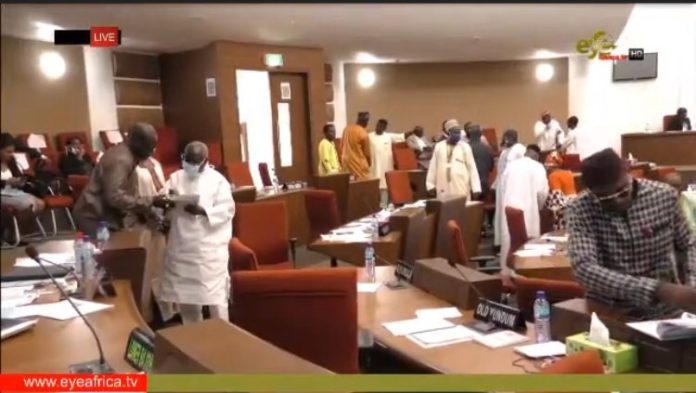 By Lamin Njie
UDP NAMs are having to go it alone as members of PDOIS, APRC, PPP, GDC, NRP and independents push for the cancelling of a portion of the local government act that says an elected local government official shall cease to be a member of a council if his party sacks him.
UDP and Brikama Area Council chairman Sheriffo Sonko have been trapped in a bitter war with the party hell-bent on pushing him out the door as chairman of BAC.
UDP sacked Mr Sonko for the second time last week after its initial decision fell on stony ground. The party relied on the current the local government act which says the elected official would automatically cease to be chairman and fresh elections be held.
Mr Sonko's sacking prompted Lower Baddibu MP Alhagie Jawara to move a motion for the act to be amended in order to provide protection for an elected local government official in future.
A huge commotion broke out Monday morning as UDP NAMs insisted that the bill should not be debated. The row prompted the speaker to suspend sitting.
The session returned in the afternoon with the speaker passing a ruling that a debate takes place.
The debate began with NAMs of almost all the parties insisting that the bill be passed since it seeks to protect the power of the people.
The likes of Ousman Sillah (PDOIS), Fatoumatta Jawara (UDP-cum-independent), Omar Darboe (UDP-cum-independent), Ousman Touray (NRP) and Salifu Jawo (GDC) all supported the bill while Muhammed Mahanera (UDP), Matarr Jeng (UDP) and Dembo KM Camara (UDP) all rejecting it.
If it passes, it will come as a major victory for Sheriffo Sonko (even if he is forced out from his position) – as it will in future provide special protection for any elected official from losing their local government seat if their party sacks them.
The debate continues…