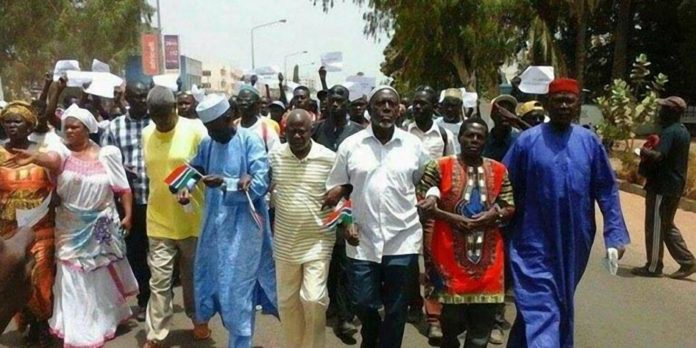 By Lamin Njie
Ousainou Darboe's voice quivered Friday as he acknowledged the sacrifice made by some members of the United Democratic Party during the 22 years rule of former president Yahya Jammeh.
"We have endured pain and sorrow that are beyond measure, ranging from various acts of carnage against the party, betrayal, frustration, detention and even murder. Hence this takes me to the events and experiences of the UDP from 3 April 2016 congress in Basse in URR, the subsequent 14 April 2016 demonstration led by Solo Sandeng and the horrendous tragedy with the supreme price paid by our patriots Solo Sandeng, Solo Koroma, Lang Marong among many others," Said Mr Darboe, in Kololi, at the opening of a three-day congress of UDP.
Hundreds of delegates have on Friday gathered at the Paradise Suites Hotel in Kololi for a three-day congress to pick a new leadership for the party for the next two years. Mr Darboe is the only candidate who has put his name forward to be the party's next leader.
Mr Darboe who gave a one-hour address at the opening of the event said UDP is bent on ensuring that dictatorship never returns to The Gambia.
He said: "[I am] not forgetting the painful imprisonment that we were subjected to through the 22 years of dictatorship. People who suffered these and still continue to suffer are Nogoi Njie, Fatou Camara, Fatou Jabang, Falang and host of others until it took us all to liberate this country from the clutches of dictatorship and the UDP is bent on ensuring that dictatorship in any form does not return to this country.
"They (Solo Sangeng and others) lost their lives, they lost liberty because they were in support of values, values that enshrined in our anti-corruption laws, values of a decent society, values of conducting politics with decency. This is what they fought for and this we must continue to fight. Those who are living with disabilities inflicted on them by the dictator, we must ensure that their pains that they are going through are not in vain and those who have transited beyond have not gone beyond for nothing."