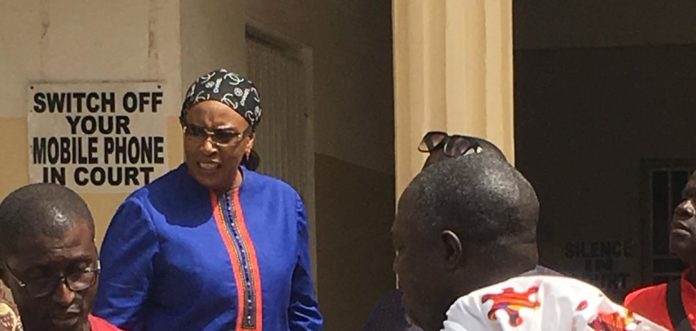 By Lamin Njie
The trial of Fatoumatta Jahumpa Ceesay on Thursday failed to proceed after police prosecutors say they are considering amending their charges against the former speaker of the national assembly.
Jahumpa Ceesay is standing trial for allegedly tampering with a witness of the Truth, Reconciliation and Reparations Commission.
At the Kanifing Magistrates Court on Thursday where the case was supposed to be heard, prosecutors said investigations were still ongoing which makes it impossible for the case to proceed.
"The investigation is ongoing and chances are that the accused will be jointly charged together with Mr Touray whose case is in the sister court," police lead prosecutor Almameh James Manga told the court.
According to Manga, it was logical for the court to adjourned the case so that the prosecution team could advise itself "so that this case can be consolidated and the two be prosecuted together."
Lawyer for Jahumpa Ceesay responding to the prosecution's application for adjournment said "we are not objecting for now but we want to make ourselves clear."
Lamin Camara said: "Our legitimate expectation is that PW 1 (first prosecution witness) will be called to testify in the matter however we will indulge the state one more time.
"By the next adjourned date, we will implore the discretion of this court to strike out the case and discharge the accused person. My client is an international consultant. She makes a living from that profession and it will be unfair to tie her down for a long time in a stalled case."
The magistrate, PM Sarr, having listened to both sides asked the state to put its house in order so that the case can proceed on March 22, 2019 when next it will come up in court.
In court, Jahumpa Ceesay who wore a flowing blue dress smiled all the time as lawyers argued over an adjournment. Friends and loved ones were also present at the court.
The former speaker of the national assembly was arrested and charged to court last week after Alhagie Kanyi – a man who confessed to killing nine people at the TRRC – accused her of calling him and asking him not to mind the commission, set up to probe the human rights violations and abuses of the 22 years rule of former president Yahya Jammeh. She faces up to three years in jail.