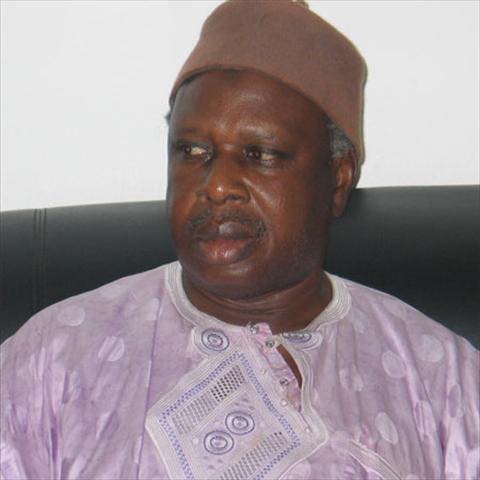 By Lamin Njie
Tributes poured in Thursday for veteran journalist and publisher of News and Report Magazine Swaebou Conateh who died on Wednesday after a long illness. He was 78.
Family, friends and members of the Gambian media speaking to The Fatu Network on Thursday described the former Director of Information as a man who dedicated his life to the truth.
"Swaebou was a good man. He was someone who loved his family. He was also someone who respected journalism as a trade. He was always writing, always on the radio and he worked closely with the press union," his wife Mrs Aji Sukai Badjan Conateh told The Fatu Network on Thursday.
Ismail Naban, the editor of News and Report Magazine who worked with the late Mr Conateh for at least 20 years, said: "It's a difficult time for me. This was a man who was like a father to me. Since when I finished high school, I joined him. The man had enormous respect for me. He had enormous confidence in me to the point that he left the entire News and Report to me to edit it. He was very accommodating."
Gambia Press Union President Sheriff Bojang Jnr told The Fatu Network: "We often describe our veterans as doyens. Swaebou Conateh was bigger than doyen, was bigger than veteran. Swaebou Conateh was throughout his career from what I remember since started journalism in 1998/1999 was a living legend, was a living resource material, was a living library. I don't know of any Gambian journalist who didn't have the opportunity of passing through the hands of Mr Swaebou Conateh."
Mr Conateh was also eulogized on social media with a longtime acquaintance of his Fodeh Baldeh commenting on Facebook: "I came to know Swaebou when he was the director of information in the 1970s and early 1980s. In those years I was a regular contributor of human-life stories in the Gambia News Bulletin.
"But I knew the veteran journalist more intimately when together with the late Momodou Fintong Singhateh and former information minister and veteran journalist Nana Grey-Johnson we helped midwife former President Jawara's memoir entitled 'Kairaba'.
"The four-member editorial team ploughed through the work for about two years, 2007- 2009, at the residence of the former president. In those days Swaebou struck me as a man with solid experience in writing.
"Of course his English language skills were impeccable. I remember when I was at St Augustine's Secondary School from 1962 to 1967, our English teacher would always read to us Swaebou's well- written essays to emulate. He was indeed a master craftsman ! He was 3/4 years my senior.
"We normally worked from 4 to 7pm with Sir Dawda always insisting on providing him with the 'mot juste'. Swaebou was always helpful when called upon to share his vast knowledge in the English language in general and synonymy in particular.
"He was jovial and down to earth.
"Jawara served us snacks and Swaebou would always remind the team that it was time for 'siitaa'( Mandinka for 'evening snacks'). So it was inevitable that we nicknamed him 'Siitaa'."
Baboucarr Ceesay, the managing editor of The Monitor newspaper said: "I am sadden by news of the demise of one of the doyens of journalism in The Gambia, Alh. Swaebou Conateh. My heartfelt condolences goes to the family, the media fraternity and the nation at large.
"Uncle Swaebou as affectionately called was a great source of inspiration to many journalists both those who passed through his newsroom and training sessions organised by Media Training Association (META).
"I was one of his students during the 1999 GPU-UNESCO traning under META pioneered by some visionary seasoned journalists including him and the then GPU executive members when the late Deyda Hydara was leading the Union.
"I benefited from his guidance as a journalist though [I] have never been a member of his newsroom. He guided me as a young editor and my team of senior scouts to pioneer the publication of the first ever Scouting Magazine in The Gambia in 2000."
Writer Musa Bah said: "The death has been announced of the veteran journalist, Mr Suwaebou Conateh. Fearless, professional, and tenacious. He was a shining light for journalists and writers. He left a legacy and will be forever remembered for his strict adherence to the ethics of journalism. May Allah, the Sublime, have mercy on him and admit him in Jannat-ul-Firdausi!"