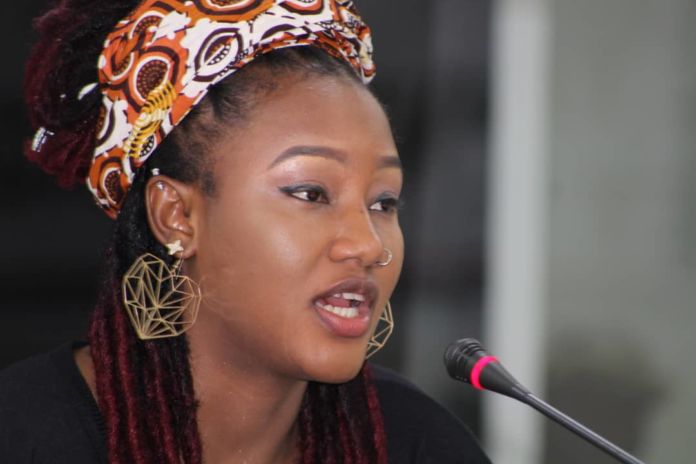 By Omar Wally
Fatou Jallow has appeared before the TRRC four months after she shocked the country by claiming former President Yahya Jammeh raped her.
Widely known as Toufah, the 23-year-old former beauty queen publicly testified before the commission on Thursday telling the probe Jammeh rubbed his genitals on her face and then went on to 'penetrate' her from behind. The alleged incident allegedly happened at State House in 2015 while Jammeh was president.
During a marathon testimony Thursday, Toufah recalled how the former president showered her with gifts in a bid to endear her to himself.
It all started with her taking part in a beauty contest in 2014 which Jammeh himself was funding. Later, Toufah was asked to work on a project – a project the former leader committed to fund. This then led to a number of meetings between Toufah and the former president.
On the day the former leader allegedly raped her, Toufah was invited to State House for an Islamic gathering that never was for her personally. She was taken to a room where the former president allegedly met her and raped her.
A tearful Toufah told the TRRC: "He [Yahya Jammeh] said, 'let's see if you're a virgin. I swear to God I was scared. I started to apologise to say that, 'I am sorry, please don't do this'. Because he appeared very angry.
"He held my face, he pulled his pants down and he rubbed his genitals in my face. He pulled my dress up and he was just saying, 'thanks'. Yahya Jammeh decided to penetrate me. But before he did, he took out a needle from his pocket, he injected me on my arm. Yahya Jammeh did not want sex with me or pleasure. What he wanted to do was to hurt me.
"He wanted to see and he said, 'let's see what is here,' as he pushed his penis into me. As all of this is happening, I am hearing the Quranic recitation in the background. The gamo was going on.
"He sodomised me and what that means is, he took his penis and he put it into my anus instead of my vagina."
Jammeh has so far not responded to the allegations.