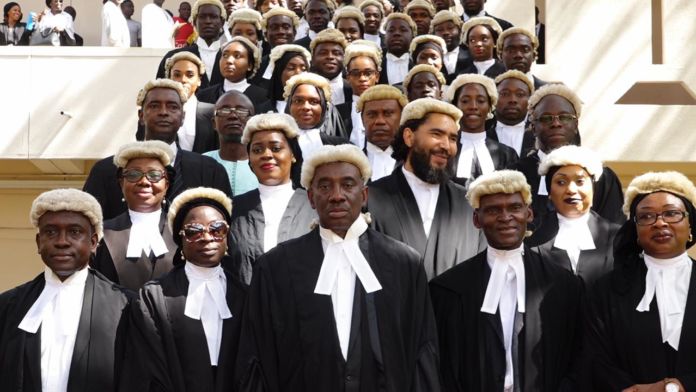 By Adama Makasuba
Twenty-seven new lawyers have been advised to prioritise honesty and professionalism after they were called to the Bar.
The lawyers were inducted at a ceremony held today at the High Court complex in Banjul after four years of intensive studies and a year of lawyer training.
Speaking at the ceremony, Chief Justice Hassan Jallow urged the new lawyers to continue studying and seek assistance from their seniors in the profession, adding 'your success at the bar will be determined by your continued study.'
As a legal practitioner your primary duty is officer of the court and uphold the administrative principle," he advised the new lawyers, adding 'remember you are not the mouthpiece of the clients in contravention of the law.'
Salieu Taal, president of Gambia Bar Association advised the new lawyers to be 'independent' and 'as a lawyer it is our duty individually and collectively to protect the integrity of the constitution.'
"Rule of law and good governance are the primary pillars of development and without rule of law and good governance there cannot be development,'' Mr Taal said, urging the new lawyers to uphold rule of law and good governance.
You must know that people come to lawyers because they think lawyers know the law, so, if you don't know the law find your way out, he said.
He urged the new batch of lawyers to offer pro bono services to the less privileged in the society as he called on other lawyers yet to be part of their 'pro bono association' to sign in and start offering free help unprivileged people in the community.
Representing the minister of justice, Hussein Thomasi expressed gratitude to the batch of lawyers but warned them 'of misconduct and 'there is high price to pay for in misconduct, you could be debarked which could be the end of your career' and urged them to seek assistance from their seniors at all time in the profession.