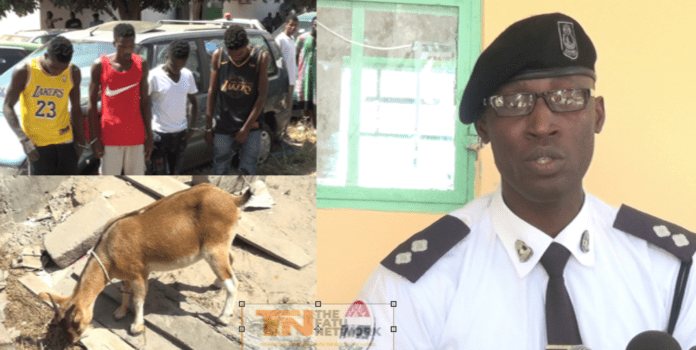 By Lamin Njie
Three thieves met their waterloo recently after the car they were travelling in got stuck in mud in Sukuta.
Bubacarr Camara, Baba Jaiteh and Alpha Trawally had hired a taxi that was conveying them with their ill-gotten properties including a goat. The taxi got stuck in mud in Sukuta and when benevolent residents raced to the scene to help them, the stolen goat began to bleat prompting them to ask questions.
Police spokesman Lamin Njie (not the author of this story) told journalists at Brusubi Police Station on Wednesday: "These individuals are involved in activities of house breaking and stealing. The case has been reported to the Brusubi Police Station here about some individuals whose house have been broken into and valuables have been stolen.
"The police opened an investigation into this case. Few days into the investigation, we understood that there was a group of people who hired a taxi and inside this taxi was a goat, a [goat] which was stolen from elsewhere.
"Unfortunately for them, they got stuck somewhere around Sukuta where they need[ed] the help of people. When people came out to help them get out of that stuck that they were in, they heard the cries of a goat inside the taxi and they started asking questions about the goat.
"When they realised the questions were becoming too much, they all ran away and left the vehicle there. The police later realised that these people have a lot of issues to answer to. They intensified their investigations until they were all arrested."