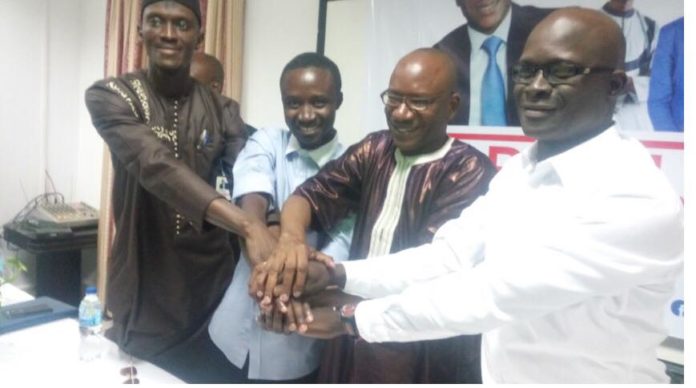 By Arfang M.S. Camara
Three independence candidates in the mayoral contest for the Kanifing Municipal Council have withdrawn their candidacy to join forces with Papa Njie as the race for mayor intensifies.
The candidates namely Gibbou M. Saidy, Pa Coker and Babucarr Jeng have both said in a press conference held at the Sea View Hotel that they have endorsed Mr. Papa Njie's candidature for the forthcoming mayoral elections slated for 12thMay 2018 because they have similar vision for the development of the Kanifing Municipal Council.
According to the candidates, they wish to make it very clear that this is not a coalition but a synergy in which all of them including Papa Njie will bring together all that they have and work towards actualizing the dream of a better K.M.C.
"As a region, we are politically very much divided at the moment and the political situation has prompted us to come together and synergies in the interest of KM and Gambia", they said, adding that therefore they urged all their supporters, well-wishers and all those who have the advancement of Kanifing Municipal at heart to rally behind Mr. Papa Njie in the forthcoming mayoral elections.
They added that in light of the unanimous decision agreed upon by their respective teams and in the spirit of forming a synergy that will endorse and support a particular candidate, given current realities on the ground.
"We have in the past week been engaged in series of consultations with all aspiring independence candidates, on the possibilities of forming a synergy of independent candidates thereby putting aside all differences as per the dictates of our various manifestos", they said
According to them, this prompted them to come together in the interest of Kanifing Municipality after reaching a common agreement, adding that they unanimously concluded that Mr. Papa Njie is a more viable candidate subscribe to the synergy and that the aspiring independent candidates will stand a better chance of winning so that the people of KM will enjoy rapid socio-economic advancement.