By: Muhammed Lamin Drammeh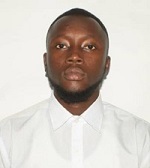 From dashing her mother's hope of her becoming a banker to proving wrong society's stereotypes, Ida Faal, a distinctive and resolved young lady weathered the storm against what she defined as a cultural stereotype and scepticism about a female becoming an auto mechanic to establishing her automobile business and mechanic garage, employing young people and excelling in a male-dominated field as a female mechanic.
Passion backed by her contagious desire to change the narrative and become her own boss, Ida's progress and innovation in the automotive industry has set tongues wagging, leaving admirers and even the sternest critics of her career choice, especially those that doubted her potential of becoming a female mechanic, impressed. After her job hunting failed upon completing her studies, Ida has since carved out a niche for herself wearing coveralls.
With over 5 people on her payroll and bunches of trainees under her Clock TVET Foundation, Ida had a rough start in pursuing her dreams of becoming a female mechanic in a society that characterized the auto mechanic work as a male job.
IDA's INSPIRATION AND HOW SHE STARTED HER JOURNEY AS A MECHANIC
Ida was born and raised in Latrikunda Sabiji. Living in a society where cultural stereotypes dominate and deeply influence lifestyle and who or what to become, Ida had a rough start. First a rejection from her mother who wanted her to become a banker, to people in society doubting her potential in the craft, to male customers doubting if she can fix and program their cars. However, with her eyes on the prize and willingness to change the narrative, Ida's mother eventually understood what she wanted and gave her blessings.
"I told my mom one day that I wanted to become a mechanic. She said no, that is not possible. From that point, when I visited my business training, I did look for a job like any other young person, but the job hunting wasn't effortless by my side. It came with numerous subjects, like subjecting me to certain things before getting the job. So, I said no; that is not me. I need to be my own boss. I wanted to become everything when I said I wanted to become my own boss," she explained, giving an insight into how her desire of becoming her own boss sprang to life.
Ida then began researching employment and auto mechanic jobs. After realizing that many young people fancy white-collar jobs more than blue-collar jobs, she took it upon herself to get into the informal sector and get self-employed.
"So, after doing that, I decided I had to do something and change the narrative," she explained.
After months of doing mechanic work and hiding it from her mother, who wanted her to become a banker, Ida eventually convinced her mother and went ahead in pursuing her dreams.
STEREOTYPE AGAINST HER
As expected, Ida faced countless challenges amidst the stereotypical nature of Gambian culture.
When she first went out with her overalls (a one-piece protective garment worn for heavy manual work), Ida garnered lots of attention on the street.
"From that day, I said to myself that someone needs to be going out every day to change the narrative", she said.
Ida explained that some people even tell her that nobody will marry her because no man wants to marry a female mechanic due to the oil over her body, but she maintains that this is who she is.
Even though she owns her own workshop, male customers sometimes doubt her ability to solve their car issues when they visit her garage.
FITA FAAL AUTOS
After overcoming so many societal challenges as a woman, Ida Faal succeeded in establishing her own mechanic garage, around Sukata/Jabang traffic lights.
She started work at Fita Faal in 2018. Fita Faal is an automobile and auto solution centre which is available online as well. For three years, she was working undercover until 2020 when she owned the shop and became the CEO.
With the evolving of technology, Ida believes that it is imperative they be available online as this gives them the ability and flexibility to basically take their garage to the homes of their customers, allowing them to fix cars and sell spare parts anywhere.
"We are unique. Because we are providing the convenience to our customers that no one person is doing in the Gambia. You can contact us at any time and will find your location, fix and program everything," Ida said about her work.