By Amara Thoronka
Brigadier (Rtd) Julius Maada Wonnie Bio, President of the Republic of Sierra, was on Thursday 14th October 2021 awarded 'West Africa President of the Year 2021' by the Carter and Merger Center of Leadership and Good Governance at this year's sixth London Political Summit in the United Kingdom.
Sierra Leone's High Commissioner to the Great Britain and Northern Ireland, Ambassador Morie Manyeh, received the award on behalf of President Bio who is currently attending the Dubai Expo 2021 in the United Arab Emirates.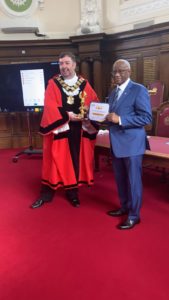 Political analysts say the rationale for receiving such an award cannot be unconnected to the President's resolve in providing free quality education in all government and government-assisted schools across the country, decriminalizing libel, providing microfinance to businesses, abolishing the death penalty and more.