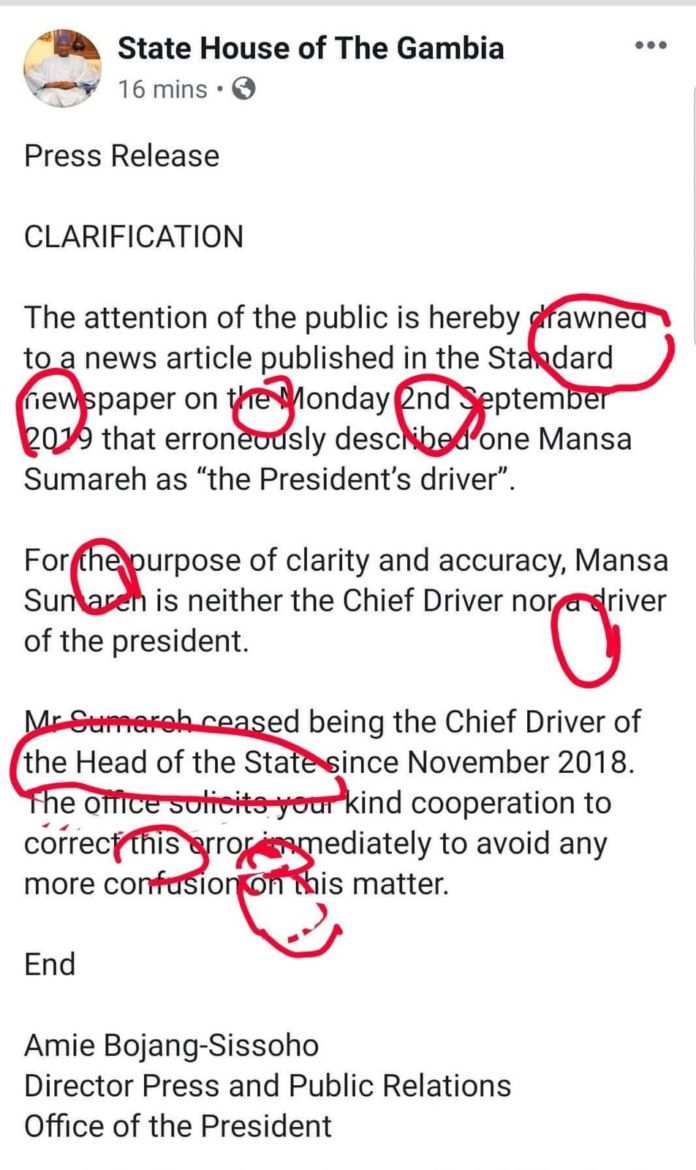 By Alhassan Darboe
Gambians on and off Facebook have been thrown into shock and drama as a press release from the office of the president becomes the butt of jokes on the internet when it went viral. Gambian Facebook users wasted no time in running to the aid of the Amie Bojang, the head of press and public relations, office of the president.
Nyang Njie, Gambian economist and social analyst roasted Amie Bojang Sissoho head of Public Relations at the office of president for grammatical and linguistic incompetence. Nyang Njie also faulted the vice president of The Gambia, Dr. Isatou Touray for sharing a press release littered with grammatical errors.
Responding the presidential press release which has become the joke of the century on the internet said: "The attention of the public is hereby drawn is the correct use of the Queen's English. The word "drawned" is wrong and inappropriate. This must and should not be reposted by a lettered individual especially a supposed PHD holder. We need to uphold high grammatical standards for mass communications. We deserve better. How people forget so soon".
Nanama Keita, a popular Gambian social commentator and former journalist joined the list of rectifiers to the errors on presiential press release added: "To the press crew at the presidency, the past participle of the verb "draw" is "drawn" and not "drawned". There's no such word as "drawned" in english dictionary.These bunch of headless chicken are better off bringing their press releases to FB for final editing before rolling them out. We can still pay them while at the same time doing their job for them.".
Saihou Saidily a UDP stalwart added: "Woiyawoi "drawned" deh. This shows Amie Bojang Sissoho and her team, don't double check or carefully proofread before publishing. Typo errors made on individual postings, is understandable but it's certainly inexcusable from State House of The Gambia page, given the resources at the President's disposal. However, could it simply be sheer incompetence of the personnel at his disposal?."