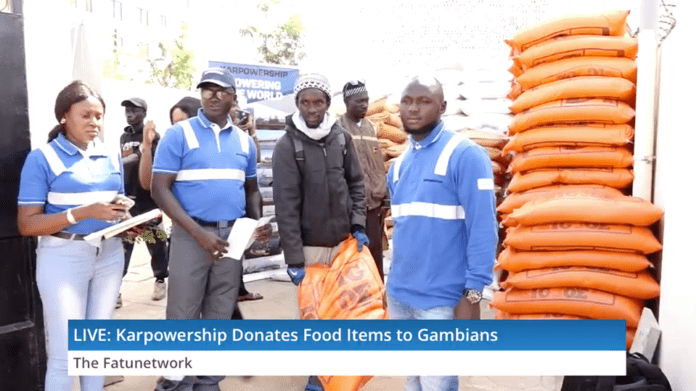 By Lamin Njie
Karpowership has distributed rice and sugar to at least 200 families in The Gambia.
The largesse worth at least 500,000 dalasis was aimed at helping less-privileged Gambians on the occasion of this year's Ramadan.
Speaking at the presentation ceremony held at Karpowership office in Fajara on Thursday, Yankuba Mamburay the program manager of Karpowership said his company has been involved in not just electricity generation but it has also been very active in 'corporate social responsibility'.
"Today what we are seeing here is a similar thing we did last year. Ramadan is at the corner and we understand the fact that as propagated by the Prophet when we have we have to share," Mamburay said.
Aside the Ramadan donation, Karpowership has touched the lives of many Gambians through its various initiatives.
Mamburay said: "We are not just giving out electricity, we are also powering the world. We are part of The Gambia and we are grateful for the opportunity to work with Gambians, to work in this country and also grateful to the government for giving us the enabling environment, so not forgetting our partner Nawec."
Adama Cham a former assembly member who benefitted from the gesture said it was timely.
"It is very timely. The coming of Karpowership into the country has changed lives. We have seen how improved the electricity situation is. So definitely we are very much appreciative of this," Cham said.