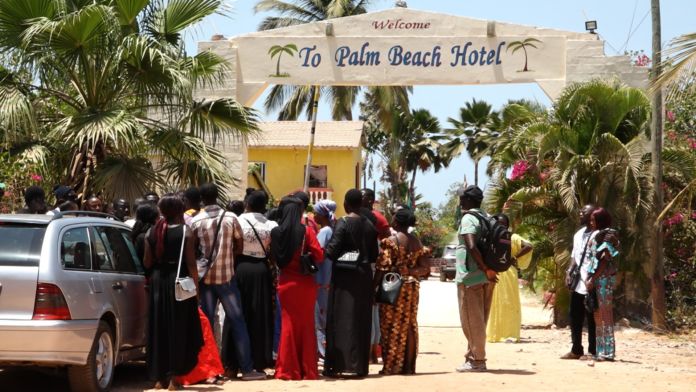 By Adama Makasuba
The management of Palm Beach Hotel has abandoned its plan to slash the pay of its employees.
The management caved as angry staff staged a protest at the hotel in Kotu on Friday. The hotel is managed by Indians.
According to the staff, the hotel had promised to pay them March and April salary dues.
Speaking to The Fatu Network at Palm Beach on Friday, Momodou Conteh, the front office and reservation manager of the hotel, said: "We were called today to come to the hotel and receive our salaries and I found many staff waiting outside complaining and they said our money have been deducted."
"What we had with the human resource manager was that they are going to pay us our salaries end of March, and when we came none of them was nowhere to be seen," he added.
He said despite trying to engage the management on various times, their requests were rejected.
An angry Sally Sanneh, a cook, said: "Even if you need an empty bottle, they (hotel owners) would sell it to you and if any tool falls from your hand and got damaged, they will deduct it from your salary."
"Men and women share a room when changing up clothes. The staff canton is not hygienic and staff are paid less for over time and holidays, a mere only 62 dalasis," she said.
The hotel management refused to make any comment about the issue after series of attempts.
However, it has abandoned its plan and has now agreed to pay the staff their full salary dues.