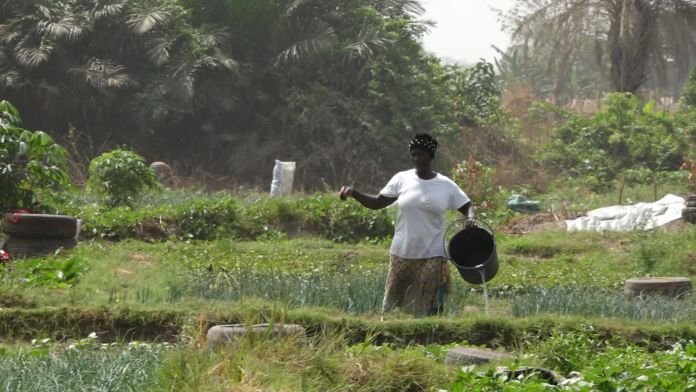 By Sarjo Brito
The New Jeshwang women's garden has become the latest land under dispute. For decades, these women gardeners have depended on this land to make agricultural produce to feed their families and educate their children.
Today, the women gardeners have accused the government of the Gambia of attacking their sole source of income after a businessman was given permission to erect a building on the farm.
The Alkalo of New Jeshwang Boto Jarju said no prior notice was given to these women to vacate the property and that none of the authorities at local government level were engaged. Even though the property is part of the Kanifing Industrial Estate, he believes that the buildings being erected on the farm are not companies but residential houses. Jarju called for government's intervention before the issue gets out of hand.
The ward councillor Habib ML. Ceesay warned that the whole community could be at risk of flooding during the rainy season as the said land in question serves as a water way. He also questioned government's efforts in empowering Gambian women.
Honourable Ceesay reiterated his community's stand on the issue saying they are not going to sit and watch their lives destroyed. Honourable Ceesay also accused the Minister of Lands for corruption and abuse of office after the Minister's admission to allocating one of the lands to his own brother. The lands minister quickly hang up the phone when contacted for comment.
Aja Isatou Gassama have been working on this garden for over twenty years.
"This is where I was able to educate my children, and this is the place where I feed my family from. We have not been given any notice. This is our property and we are not leaving. They sent a grader here yesterday to clear everything, but we couldn't allow that to happen. I hope government steps in because we wouldn't want a repetition of the Faraba incident," she said.
The Gambia have witnessed increasing land conflicts in the past year leading to not only violence within communities, but the loss of lives.