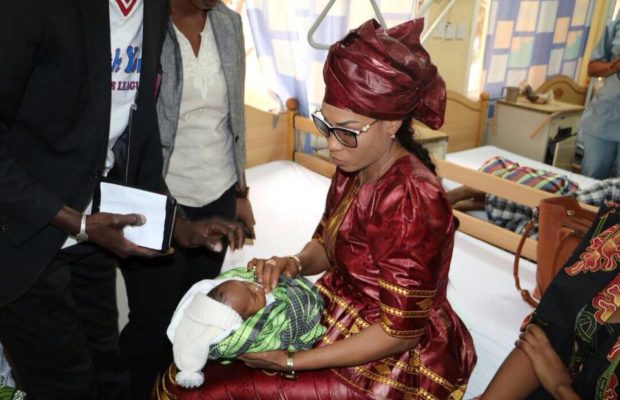 By Mammy Saidykhan
First Lady Fatoumatta Bah Barrow on Tuesday visited the Edward Francis Small Teaching Hospital in Banjul where she doled out money and mother care items to first babies of the year.
Through her foundation, the gesture forms part of the President's wife's vision to give special attention to women and children in the country.
Speaking at the event, the Minister of Health and Social Welfare Dr Isatou Touray who accompanied the First Lady to EFSTH commended the staff of hospital for their hard work and commitment.
"This is a big day for me and her Excellency the First Lady for coming here today to serve humanity, to support the first lady's initiative and all other donors that has facilitated for her," she said.
According to her, the First Lady's gesture is one of the humanitarian gestures that The Gambia needs for greater development.
"I know you are all working very hard and we count on you, you are the front liners and to congratulate all of you for supporting the health care system," she said.
The chief medical officer of EFSTH Dr. Amet Samateh expressing gratitude over the gesture said the First Lady is a friend of his hospital.
"The government's level of commitment, that of the first lady and her foundation is exemplary, working hard in the improvement of the health sector," he said.
"I know the level of their commitment to the nation especially to the health sector, more so to this hospital."
Fatou Ceesay, the chief executive officer of Fatoumata Bah Barrow Foundation said that the foundation relies on the support of Gambians and all the institutions that are supporting the First Lady's cause.
"I want to urge Gambians to help support the first lady's cause, its doesn't have to be in cash but in kind, which will be go very far," she said.
She thanked the donors, Gamtel/Gamtel and Africell whom donated an amount of D400,000 to the FABB and always support the second babies of the year.
A similar ceremony will also take place in major hospital in the country where next first babies of the year will be given money and gift mother care items.