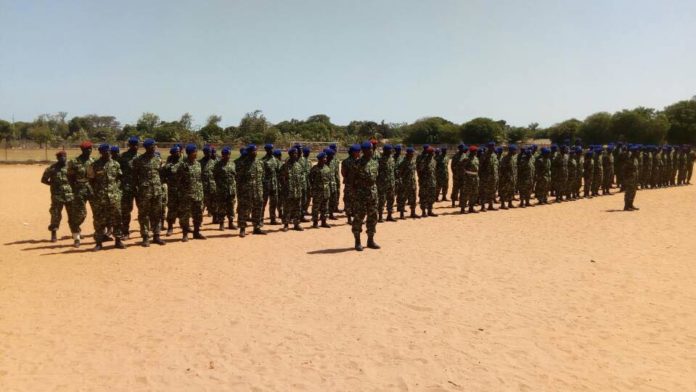 The first batch of the New Presidential Guards of 150 personnel which includes 21 female soldiers on Tuesday, May 1,2018 left Banjul for the Senegalese capital, Dakar for advanced training.
Addressing the troops before departure at the Gambia Armed Forces Training School in Fajara , The Chief of Defence Staff Lt General Massaneh N KINTEH congratulated the troops and extended regards from HE the President who is currently on leave at his home village of Mankamang Kunda,URR.
The CDS expressed satisfaction about the reconstruction of the New Presidential Guards as part of the agenda for the new government. The need for the dissolution of the former state guards came at a time when the security architecture was in absolute need the CDS highlighted.
It is in this quest that the President and Commander In Chief  Mr ADAMA Barrow consulted his Senegalese Counterpart for the New batch of the Presidential Guards to undergo further training in Dakar. However, due to the protocols involved, the training could not commence as scheduled.
The CDS also informed the troops that the New Presidential guards will be a mixture of various security services of the country. He advised the troops to forget about their individual differences and train as a team to achieve the desired outcome, through which they can adequately take care of the security of the seat of Government.
They are led by Captain Lamin Fatty and Major Kuluteh.