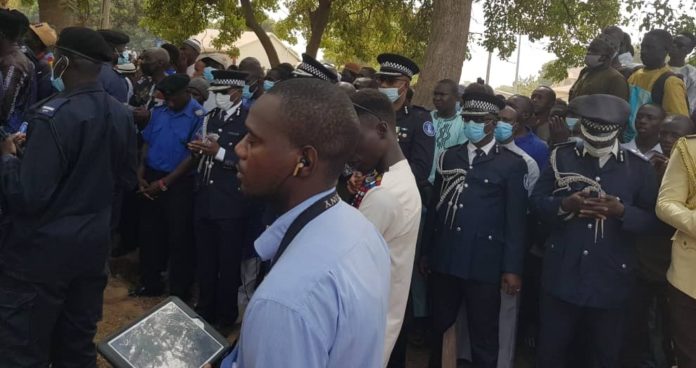 Mamour Jobe has been laid at a sombre ceremony that saw one of his top aides Ebrima Bah struggle with tears amid great shock over his boss's passing.
Jobe who was the country's Inspector General Police died on Saturday afternoon after a brief illness. He was 61.
Jobe was laid to rest at the Sinchu Alagie ceremony. Gambians from all walks of life graced the event. He was the country's top law enforcement officer since July 2018.
His body, carried by his police officers, was lowered in his grave at 3pm Sunday. His police officers fired in the air the times in a solemn gun salute.
"We've lost Mamour today and we know it will be hard to replace someone like Mamour," his deputy Abdoulie Sanyang earlier on told mourners.
Jobe's immediate boss is the minister of interior Yankuba Sonko who said he worked with him for 38 years.
"He was first to teach me on police work. Mamour is a Muslim, Mamour was humble and Mamour was compassionate," Sonko said.
One of Jobe's assistants was AIG Ebrima Bah who stood as Jobe's body was moved past him as he wept in pain.