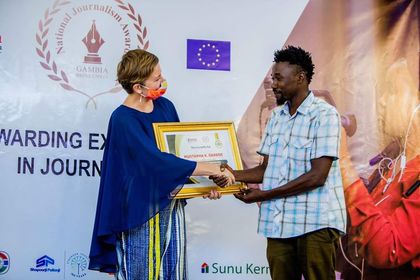 Mustapha K Darboe dominated on Saturday night at the Gambia Press Union Awards when he cleaned the house with six honours.
The Malagen editor swept aside his challengers in as many as six categories in typical style – building upon his last year success when he won four honours including journalist of the year, the competition's highest honour.
The awards won by the journalist this year are, human rights, environment, legal afffairs, investigative reporting, special Covid-19 reporting and journalist of the year.
The journalist however blasted that with all the good stories that are being published, they make little impact in terms of government taking action.
"Nobody cares," he said at the event when asked about his story on sand mining in Sanyang.