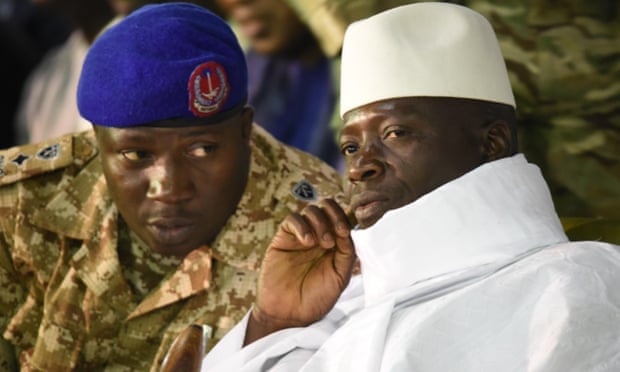 By Lamin Njie
Justice Minister Abubacarr Tambadou has hailed men and women of the Gambia Armed Forces, saying they were at the forefront of efforts aimed at removing former president Yahya Jammeh from power.
Mr Tambadou speaking at the launch of the new national security policy at the Kairaba Beach Hotel on Monday said while some members of the Gambian army did not live up to expectations, the army 'have had the most attempts at trying to removing former president Jammeh from power'.
The Justice Minister who is also the chairman of the security sector reform steering committee said: "Too many things, sometimes good and sometimes bad, have occurred in our country over the past two decades and The Gambia Armed Forces, for one reason or another, found itself at the center of those events. But let me make this clear, The Gambia Armed Forces are our armed forces, the peoples' armed forces, they are not enemies of the people. Yes there have been failings in the past when some of them did not to live up to our expectations and we cannot deny this obvious fact. Naturally, this has created mistrust between the armed forces and the people that it seeks to protect and serve. Indeed, this has been acknowledged on several occasions.
"But the reality is that every society, every community, every organisation, professional or otherwise, has bad elements and so this is not unique to our armed forces. The fact remains that an absolute majority of the members of our armed forces are hard-working, honest, and dedicated professional men and women who on a daily basis put their lives at risk so that the rest of us and our families can live in a peaceful, safe and secure environment. It is because of them that we can go to sleep at night with our families not having to worry about our safe-ty or the safety of our loved ones, and we must show gratitude to them for this. They deserve our respect. Moreover, and notwithstanding what one may think about the desirability or justifications, our armed forces have had, over the past two decades, the most attempts at trying to remove former President Jammeh from power. Many of them died as a result, while others were jailed, maimed or went into exile. At face value, it illustrates their collective disapproval of former President Jammeh's methods.
"We must therefore continue to build upon the modest successes of this renewed civil-military relationship since the change of government in order to inspire confidence and trust by the people. The Gambia Armed Forces must be willing therefore, to do what is necessary to shed its past image as an instrument of oppression. Respect, after all, is also earned, and not demanded. So, you the men and women in uniform, you must regard yourselves as the guardians of our new found democracy and our freedom, and this responsibility and expectation has only increased in the new Gambia. Your time, your services, your skills and your professionalism are needed now more than ever be-fore, and you will continue to fly our national flag with the honour, pride and dignity expected of true patriots."