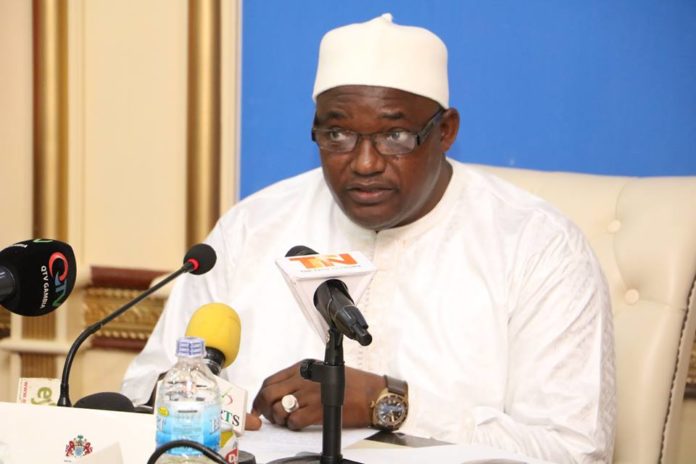 By Momodou Justice Darboe
President Adama Barrow has said his government is mindful of the current reality, regarding the safety and security of the nation.
Speaking at the launch of the National Security Policy(NSP) 2018/2021 earlier on Monday at Kairaba Hotel, President Barrow emphasised that the basis of growth,development and progress are peace, security and stability.
" As a result, we cannot ignore this responsibility. Notwithstanding the government's responsibilities, the overall aim of the National Security Policy is for everyone to be responsive in countering security threats whilst utilising opportunities that prevail. The NSP sets out the directions government will take to safeguard our people and natural resources,"he pointed out.
According to President Barrow, NSP sufficiently provides a robust, coherent and strategic approach to respond collectively to national security threats, to sieve decision-making processes, clear lines of accountabilty and responsility from execution of action and commitment to building the nation's resilience to crime.
He added:" It is important to note that this policy is not intended to duplicate nor to overlap with other existing sector plans,policies and strategies on national security. Rather, it is to strengthen effective coordination of their implementation. This National Security Policy has opted the expanded concept of security which now include both traditional and new forms of security threats.
" Such threats empass border management and security, climate change, natural disasters, economic security, environmental security and human security with focus on gender-based violence and the fight against non-communicable diseases."
President Barrow expressed optimism that NSP will further strengthen coordination at national level in achieving the country's security goals and strategic objectives, protect national security interest and to facilitate proper management of national resources.
" The policy seeks to create a united and secured nation wherein people's core values; welfare and wellbeing,way of life, territorial integrity and sovereignity are protected and enhanced. The government will strengthen the pillars that hold the security of the nation and ensure that security become a top priority."
The NSP,President Barrow explained, is the outcome of a series of extensive consultations and validation exercise conducted nationwide.
" It was developed through the participation of all stakeholders that involve government, the private sector, bilateral and multilateral partners, civil society organisations and our local communities. The product of these consultations led the foundation for the formulation of this important document as it revealed various forms of security threats, risks and opportunities associated with the security sector and the country at large.
" Experience have shown that it is difficult to successfully reform any security sector in the absence of the necessary and appropriate framework to guide its operation and direct its management. Thus, the need for a policy and strategic framework is more urgent and critical."
"My government has launched a number of initiatives aimed at improving coordination between and among different institutions aimed at transforming our country into a sustainable and economically viable democracy. We can safely predict that the impact of this initiative will be felt increasingly over the next few years. And with results in a security and a justice system that is more responsive to Gambia's needs," Mr. Barrow disclosed.