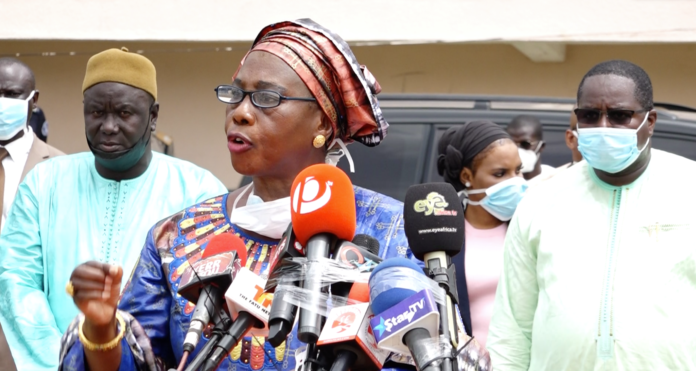 By Lamin Njie
Vice President Dr Isatou Touray doubled down on her labourer work comments on Wednesday declaring: 'all of us who have travelled abroad have done some toilet cleaning'.
Dr Touray brought herself all manner of criticism in April when she rued that Gambian youth complain of unemployment when they could work as labourers.
She spoke as the government faced a manpower crisis over foodstuff it bought that needed to be packed into trucks to be taken to distribution spots across the country. It involved strong men that can carry rice and sugar on their head.
The Vice President at a news conference at the McCarthy Square on Wednesday defended her comments insisting Gambian youths should have received her call with pride.
The Vice President said: "When we started, there was a time when I said we have been waiting last three days and we could not get young people from The Gambia who would take this responsibility.
"And I had delayed it because I wanted them to benefit because there was a lot of money in paying in offloading and uploading and because there were other people coming from other regions, from the sub-region, I thought the Gambians need more, I thought the Gambians also need to be exposed.
"But what happened? It was being deflected, deflected to mean that my children are out there enjoying something and I want these people to do this type of job. But I am very happy to say that the young people who understand where I am coming from expressed their appreciation for the observation I have made to encourage them to come and engage in national building [sic].
"Whether you're a graduate, whether you're a whatever, if anything comes that requires national responsibility, I think we should all come out… I as the vice president was coming here on a daily basis to come and support the team because it's a national call. We must be patriotic. We must be nationalistic irrespective of where.
"Other countries and exposures that I have, I have seen PhD holders carrying buckets, going to do national responsibility. This is what you have, take it. And it's not that it's going to be done for nothing. And when I called on the youth, I called them because I felt they deserved to be engaged because this is there country.
"They should take leadership and I am very happy that they responded. I want to use this opportunity to say thank you for all the efforts that they did. We are friends, we are your parents, we are your government and we have to be honest to you and be transparent to you to call you to accountability if things are not going right and that is exactly what I did. To call your attention and I am happy that you have responded.
"They have now formed themselves into a group who are going to be responsible for managing certain things when there are national calls and they will earn money out of it. Rome was not built in a day. All of us who have travelled abroad have done some toilet cleaning, we have done dish washing, we have done anything and we paid school fees of lour children out of that.
"So if the Gambian youths are called to this national call, it should be a pride because it's history. This has never happened. It's history. Therefore, I urge thr young people. This is your time, this is your country. Engage constructively, work, do everything you can to rise to another level.
"If it means getting the money to go for training or you want to pay for training, get it. People were receiving more than 5000, 3000, 6000, 9000. Some business people were paying 90,000 for offloading and uploading. So those who worked gained it and I want Gambian youths to benefit."