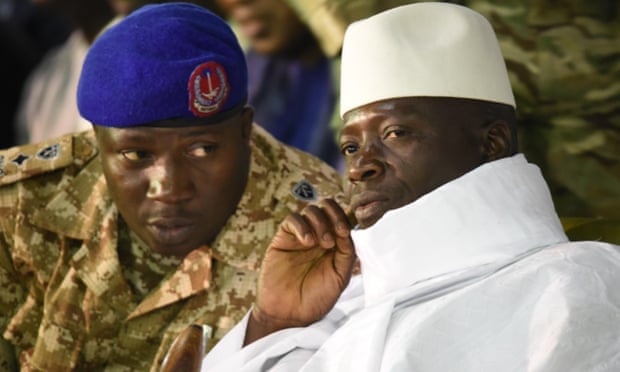 By Omar Wally
Former President Yahya Jammeh has urged his supporters that at no time should they be involved, engaged or instigate violence.
Mr Jammeh however said if violence is directed at APRC adherents, "you have the right to defend yourself in anyway and to any extent".
The former president made these remakes Friday evening during a telephone conversation with APRC deputy party leader Ousman Rambo Jatta and the recording of the conversation was shared with The Fatu Network.
Mr Jammeh who nowadays lives in Equatorial Guinea said he doesn't want to see any APRC member to show indiscipline or engage in insult.
"I have heard so many nasty things that is being directed at APRC supporters. [But] if someone insults you, it will not stain on your body or cloths, so he or she is taking your sins," Mr Jammeh said.
The exiled leader said he is proud of APRC because it's a party of 'construction' not 'destruction'.
He then said: "All good Gambians are in APRC despite what all what people are saying. That it was 22 years of suffering. Even the frogs know what I have done in The Gambia and even the frogs know that they are no longer safe in The Gambia.
"If somebody says, '22 years we have been suffering', tell the person, 'you have 100 more years to suffer'. So that should not make you angry. An ungrateful person will also be ungrateful, so continue mobilizing the good Gambians.
"Anybody who wants to bring tribalism into APRC, expel the person. As a muslim, I don't have a tribal issue with anybody, I have issues with bad, evil and satanic people. I cannot be trablist because if I do I will go against the will of Allah. Do you think I want to go to hell? I want to go to heaven.
"So I will neither be a tribalist nor a racist or a hater of people because they speak different language or have a different culture with me because if I do, I will be failing Almighty Allah's test."
Mr Jammeh also reacted to plans by APRC to stage a protest to demand that he returns to the country.
"The fact of the matter is to get to the authorities and make it clear to them that the agreement must be implemented," he said while referring to the joint communique that was signed by UN, AU, ECOWAS and government before his departure.