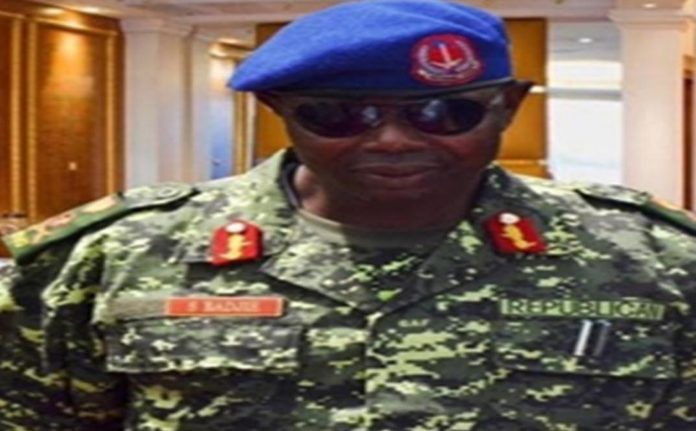 By Lamin Njie
Sulayman Badjie is a good man who was trying very hard to be good by doing good, according to former army lieutenant colonel Lamin Gano.
Sulayman Badjie has been on the lip of Gambians since a video emerged of the former Republican National Guards commander where he is seen seeking forgiveness.
Gambians have mostly not been kind towards a man who could lay claim to being the most powerful military general to have ever emerged in The Gambia.
His name has been mentioned heavily in at least two investigations – the Janneh Commission and the TRRC.
The Janneh Commission found him to have spearheaded – alongside former President Jammeh – the plunder of public funds amounting to billions of dalasis while the TRRC has heard he commanded a prolific killing crew.
Former army lieutenant colonel Lamin Gano who worked with Mr Badjie has however stated what he knows about the AWOL lieutenant general.
Mr Gano who once stood behind former president Jammeh as his ADC wrote on Friday: "In June 2013, I confided with General Badjie that I have tendered my letter of resignation from GAF since a month ago but someone at the Defence Headquarters was sceptical about Jammeh's possible reaction to my letter and therefore decided to play it safe by locking it in a drawer as if it was contaminated with Covid-13. In those days, the fear of Jammeh was indeed the beginning of wisdom (Jilanka!).
"General Badjie laughed and promised me that he will not only make sure that my letter got to Jammeh but he will convince him to give it a positive response. And true to his words, I made history on the 2nd of July 2013 as the first and only Senior Officer to voluntarily and honourably resign from GAF (at least in the 2nd Republic).
"Gen Saul Badjie was one of very few Officers who would intercede with Jammeh on behalf of innocent people whose affairs could have easily gone south. By this Ramadan, I bear witness that he is a good man who was trying very hard to be good by doing good. Perhaps his major challenge was carrying a rank/responsibility which he was not adequately prepared for in terms of training, education and experience.
"There is only one best way to close our country's dictatorship chapter: Forgiveness and Reconciliation."