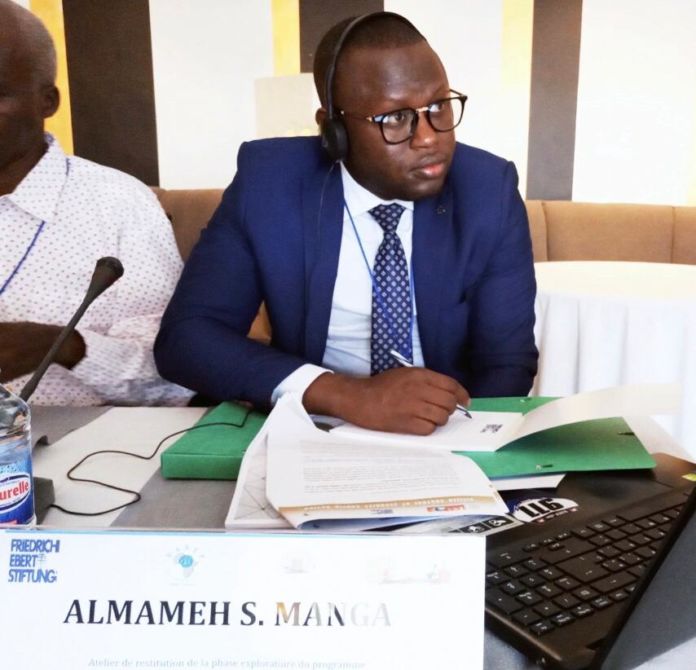 The Gambia Football Federation has appointed Assistant Superintendent of Police Almameh James Manga as Integrity Officer for Football, the federation has announced.
Mr Manga's appointment is premised on his competence, dedication and commitment to the values of football while his sacrifice and overwhelming support to the ideals of the football Federation earns him weight to securing the FIFA required merit of the position, the federation in a statement on its official Facebook page said on Saturday. ASP Manga's appointment took effect last month.
Almameh S Manga, an Assistant Superintendent of Police, is a serving member of The Gambia Police Force. He was born on 25th May 1986 in Kanfenda village and pursued his basic and secondary education in Bwiam. He pursued a Diplomas in Peace and Conflict Resolutions and Law at the Management Development Institute and West African Insurance Institute respectively. He would later bag an LLB degree from the University of The Gambia, and a Master of Laws Degree in Human Rights and Criminal Justice from University of Aberdeen, UK. He is also recently called to the Gambian Bar as a Barrister and Solicitor of the Supreme Court of The Gambia.
ASP Manga is a prosecutor and legal officer at The Gambia Police Force and works closely with the Human Rights Unit of the police given his expertise in the area of human rights. In addition to his job as a Cop, Manga also currently serving as an Adjunct Lecturer at the University of The Gambia and the Management Development Institute respectively.
Mangas recent appointment as the first ever Integrity Officer for the Football Federation is pursuant to a FIFA requirement for all Member Associations to appoint an Integrity Officer in a bid to establish a point of contact for communications and actively participate in programmes and as well take other steps consistent with FIFAs core pillars of promoting integrity and preventing any method, such as match manipulation or corruption, that might jeopardise the integrity of matches, competitions, players, officials or member association (MA) or give rise to abuse of association football.