By Omar Wally
The actions of one man (Yahya Jammeh) to withdraw The Gambia from the Commonwealth had far reaching effects on The Gambia says Gambia's Foreign Affairs Minister.
In October 2013, former President Yahya Jammeh took a unilateral decision to withdraw Gambia from the Commonwealth describing the collection of 54 countries as a neo-colonial institution.
Jammeh did not give reasons as to why he pulled Gambia out of the Commonwealth. After five years of being out, The Gambia Thursday, February 8 was re-admitted.
The commonwealth charter was handed over to Foreign Minister Darboe at a ceremony in Banjul. He said when Gambia was withdrawn, the country's voice was diminished on permanent issues on global platforms such as climate change, economic development and south-south cooperation which are vital to the development of The Gambia.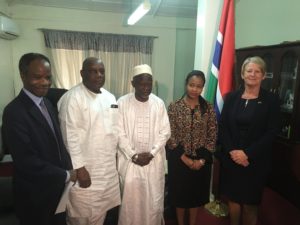 'Gambia's flag has been hoisted and took its rightful place among that of distinguished flags of the commonwealth family.'
Darboe said The Gambian judiciary will ones again be able to recruit judges from other Commonwealth countries, enjoy immigration privileges in UK which were all suspended in November 2015.
Gambia will now actively participate in Commonwealth games and other sporting activities, Darboe noted.