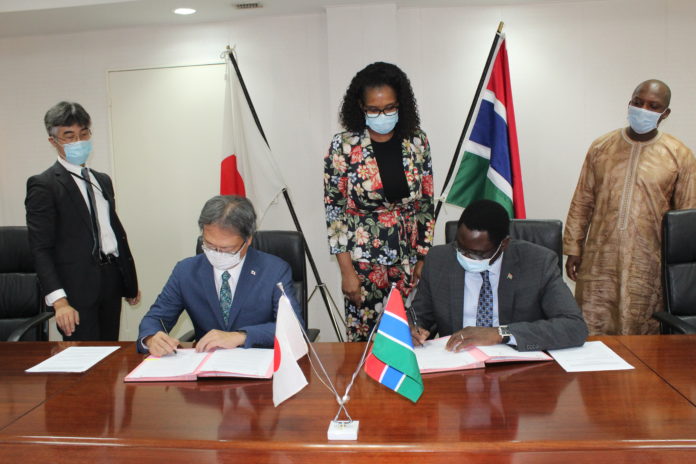 Dr Mamadou Tangara on Friday signed exchange notes for the delivery of Japanese food assistance D125M to The Gambia for 2020.
"Speaking at the ceremony held at the Embassy of Japan in Senegal, Foreign Minister Dr. Tangara thanked the Government of Japan and described the gesture as thoughtful and kind. He said the food assistance is crucial and means a lot to the country's post Covid – 19 reconstructions and would address key priorities in the National Development Plan (NDP)," the foreign ministry said in a statement.
"Foreign Minister Tangara assured the Japanese side that proceeds generated from the food assistance would be earmarked for intervention in great projects that directly address challenges such as health, education and other social services central to the NDP of the Government," the foreign ministry said.
Foreign Minister Tangara added, according to the statement: "I am pleased to recall your country's participation in the realisation of projects and programmes in the most important sectors of our development, notably in the areas education and vocational training, agriculture, fisheries, health and water management, as this is evident with the recent signing here of the Project for Rural Water Supply Phase IV worth about 770 million Gambian Dalasi."
For his part, the Ambassador of Japan, his Excellency ARAI Tatsuo, said the Government and people of Japan are pleased to make the gesture to The Gambia, the statement said.
The statement added: "Ambassador Arai said the project consists of purchasing rice to help cover the local food demand.
"He adds that quality and sufficient food for all are important for health, social and economic especially in the context of COVID 19. Health, he disclosed, is one of the pillars his Government supports – 'Africa Health and wellbeing Initiative' and the 'Initiative for food and Nutrition Security in Africa (IFNA)'. In his conclusion, Ambassador ARAI said food security is essential to the improvement of public health and human security.
"On the heels of the signing ceremony, Foreign Minister Tangara and Ambassador ARAI also held talks aimed at further strengthening bilateral relations between the two countries."