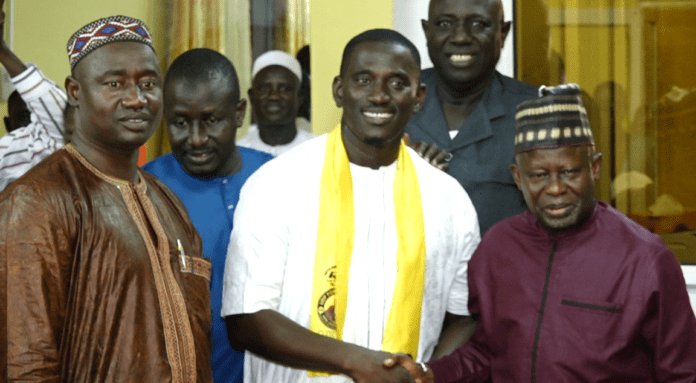 By Momodou Justice Darboe
The Gambia's former Secretary General from 2013/4 on Thursday formally joined the main opposition UDP after three years of consultations and reflections.
Mr. Momodou Sabally disclosed that he had settled down to the UDP as a party of both choice and imperative because, according to him, UDP is the only 'formidable' front that can bring answers to the country's development problems.
Described by UDP as a landmark in the party's evolution and by many as a surprise, Sabally's jump onto the main opposition party's bandwagon was reportedly a culmination of three years of efforts by the All Badibbu UDP organization that strives to unite people of Badibbu origin under a United Democratic Party umbrella.
Announcing his formal allegiance and support to the UDP in a meeting held at the party bureau on Kairaba Avenue Thursday, Sabally explained: "This is not a surprise. I don't make decisions on whims and caprices. These [consultations] have been going on for the past three years when I was first taken to Ousainou Darboe in Kotu. We had lots of consultations thereafter and its today that I have formally joined the UDP."
Sabally clarified that hitherto throwing his weight behind the UDP on Thursday, many people had approached him to join other parties or better-still form his own political party.
"I've never formally joined any party. It's today that I'll get my application completed to join the UDP because it's the party with the right policies and principles. I joined the UDP based on the principles of human rights, patriotism, democracy, rule of law, strong leadership, passion for youth development et cetera and not on region or ethnicity," he told an apparently receptive gathering of UDP supporters who had in their midst the party leader as well as his deputy.
Commenting on the Janneh Commission Report and the subsequent government White Paper that recommended a lifetime ban on him from holding public office for his role in 'aiding and abetting' former President Jammeh in embezzlement and corruption, Sabally said he's not losing sleep over the commission's recommendations because it's not a court of law.
"I'm not scared of the White Paper because nobody can stop me. The commission is not a court of law and I've done my homework well before it releases its White Paper," he added.
The former head of the civil service said the raison detre for throwing his weight behind the UDP is that he is convinced that the party is the panacea for The Gambia's development woes.