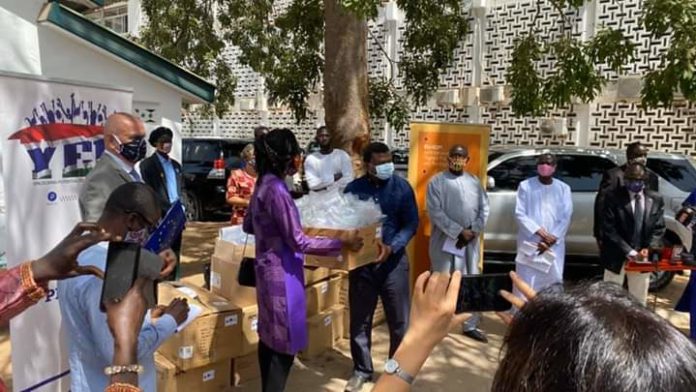 The European Union has handed over 10,000 face masks, 500 protective suits and 100 face shields to the Ministry of Health.
The donation on Wednesday is part of a larger contribution of 2,000 protective suits and shoe covers, 40,000 face masks and 100 face shields by the EU, the EU said in a statement.
It added: "The support is meant to enhance the availability of basic supplies and equipment to fight the pandemic in The Gambia. It also supports income generating activities for Gambians by promoting locally made solutions. The protective suits and shoe covers are destined for frontline immigration and border officials, while the face masks are for frontline workers and other exposed professionals and the face shields will protect medical staff.
"The different types of equipment are all proudly made in The Gambia and the production helps provide alternative sources of income for local businesses. As part of their reintegration assistance, 20 returnees have produced protective suits and shoe coverings. They had previously been trained in tailoring and received sewing equipment as part of their reintegration assistance by IOM.
"The facemasks are produced by small businesses and 107 tailors in rural Gambia and three training institutions, the PIA, Insight Training Centre and Fajara Training Centre, which have been transformed into production centres offering employment opportunities for young Gambians, including skilled returnees. The face-shields are being produced by Make3D that specialises in 3D-printed solutions."
The European Union Ambassador to the Republic of The Gambia, H.E. Attila LAJOS said: "This innovative #TeamEurope initiative utilizes the skills of returnees to meet an urgent public health demand. We have yet again the proof that there is no stigma in being a returnee, and that returnees can make it here – Tekki Fii – while helping their country in times of crisis."
The production of the equipment is supported by the Youth Empowerment Project (YEP) and the EU-IOM Joint Initiative for Migrant Protection & Reintegration.