By: Muhammed Lamin Drammeh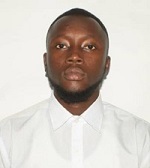 Dr. Ismaila Ceesay, party leader and Secretary General of the Citizen's Alliance (CA) has claimed that Seedy Sheriff Ceesay, the National People's Party candidate for the Brikama Area Council chairmanship election, can transform the West Coast Region into a municipality and the country's engine growth should he be elected as the chairman of Brikama Area Council.
Dr. Ceesay was speaking to the press after accompanying Seedy Sheriff Ceesay to submit his nomination papers to the Independent Electoral Commission office in Brikama earlier this morning. He explained that Seedy is the most competent candidate running for the seat and claimed that he can turn the West Coast Region, the biggest local government council in the country, into a municipality.
"I believe Seedy is the most competent candidate. He can and has what it takes to transform this region into a municipality and also into one of the biggest regions. In fact, to transform it into the engine of growth for the Gambia," he claimed.
The political science lecturer asserted that the NPP candidate has a proven track record in turning organizations into empires, adding that he knows the problems of the people on the West Coast and has solutions to those problems.
Dr. Ceesay, who sounded upbeat about Seedy's chances of winning despite the NPP's woeful performance in the Councillorship election, said one cannot use the councillorship election to project the outcome of the chairmanship or mayoral elections.
"You cannot use the result of the Councilor election to make projections for the chairmanship or mayoral election. These are two different types of elections. Remember, less than 30% of people voted. The turnout was very low," he said while commenting on why he believes Seedy Ceesay will win.
Dr. Ismaila Ceesay's party, Citizen's Alliance, are in a coalition with the ruling National People's Party.