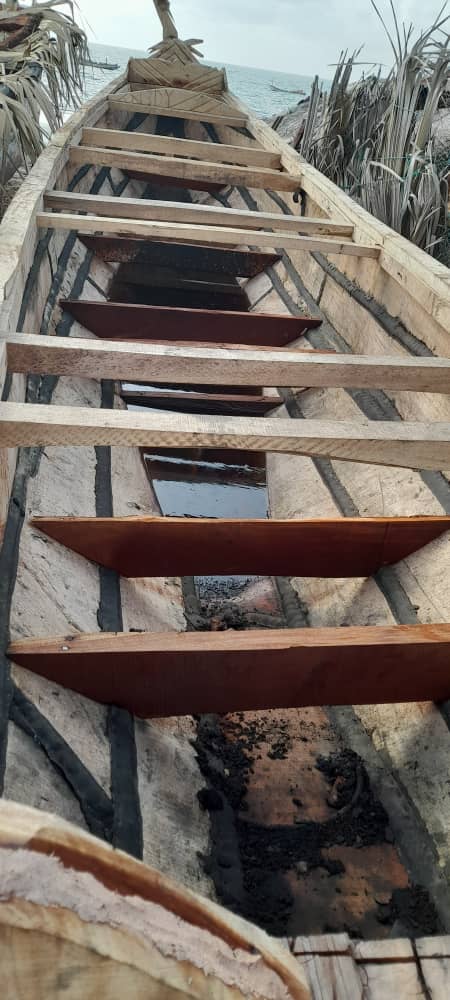 By: Zackline Colley
Sheriff Gibba, a resident of Kanifing South, is determined to address the challenges faced by young fishermen due to the lack of Gambian fishing boats operating in the sea. However, he is now at risk of losing his investment in a fishing boat construction project unless urgent support is provided.
Gibba, who aims to change the status quo by providing his younger brother, a fisherman, with a fishing boat to alleviate constant fish scarcity in the local market, is pleading for immediate assistance to complete the boat's construction, which is in its final stages.
In an interview with The Fatu Network, Gibba explained that his younger brother had requested a fishing boat, and due to his own financial limitations, he had taken out a loan to initiate the boat's construction. He said, "I took a loan from the Gambia Credit Union to help build a fishing boat for my younger brother, enabling him to earn a living and support the family."
Receipts of purchased materials for the boat, obtained by The Fatu Network, indicate that Gibba has already spent a total of D109,750 (one hundred and nine thousand, seven hundred and fifty dalasi).
However, he couldn't complete the construction as his mother fell ill, and he had no choice but to use his funds to cover her medical expenses, which left him financially drained.
Gibba mentioned that he had exhausted his savings after paying for his mother's medical bills, which eventually impacted the progress of the boat construction. The situation has left him with no alternative but to openly seek support to complete the boat.
Despite the challenges, Gibba remains optimistic that with the necessary support, he will be able to finish the boat's construction and provide it to his younger brother, who is passionate about fishing. He revealed that over the past seven months, he has tried every possible means to complete the boat's construction, including reaching out to various philanthropists, GSM operators, and the Ministry of Youth and Sports, but without success.
For those interested in supporting Gibba, you can contact him at ‪+220 661 6445.